It was another full evening of action across the spectrum of sports. Here's a look at the scores and results from Friday night in the Prep Recap.
• Football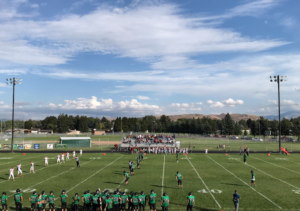 – Star Valley 28 Blackfoot 14 – The Braves got a defensive touchdown from Bryson Jenkins in the first quarter and a pair of touchdowns from Dean Shaw as they beat the Blackfoot Broncos 28-14 who scored both touchdowns in the final 3:10 of the game after trailing 28-0.
– Bear Lake 13 Jackson Hole 7 – The Bears picked up an upset win over the Broncs with a goal-line stand on the one-yard line as the Broncs fall to 1-1. The Bears improve to 2-0 after winning just one game last season.
– Pinedale 12 Lyman 20 – The Eagles improve to 1-1 as the Wranglers fall to 0-1.
– Cokeville 0 Mountain View 41 – After losing to the Panthers for the past two seasons, the Buffaloes stampede over Cokeville to open their season 1-0. The Panthers fall to 1-1.
– Cheyenne East 55 Kelly Walsh 0 – (Per @BradyOltmans)
– Laramie 7 Rock Springs 40 – Coach Mark Lenhardt picks up his first win as the RSHS coach (Per @WyoVarsity)

• Volleyball:
The Lady Braves fell to Juan Diego at the Evanston Border Wars and then rattled off wins over Pinedale, Uintah and South Summit.
The junior varsity also lost to Uintah, split with South Summit and defeated Evanston and Pinedale.