Fun Run celebrates its 41st year on Independence Day 2019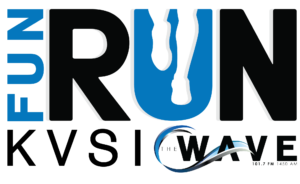 Thursday, July 4, 2019 will see the 41st annual KVSI 101.7 Fun Run.
"It is 8.6 miles from the radio station to our stopping point in Paris," said Lisa Hillier of KVSI. "The majority of our participants are people who come 'home' for the 4th of July. It is a tradition that many look forward to, and has become a key component of the holiday festivities."
According to Hillier, the 2019 race route will be a tad different than it has been in years past.
"This year the route will change from years past due to safety concerns of that many people running on the highway," Hillier said. "Walkers will begin at 7 a.m. and Runners at 8 a.m. and will run along the south side of Highway 89 to the Canal Road. (about 1 mile). They will then be re-routed through the bottoms along Canal Road into Paris."
The annual race is designed to be a family friendly event that participants of all skill levels can take part in.
"The Fun Run is just that — a Fun Run," Hillier said. "Keith Martindale started the Fun Run 41 years ago after he and a group of friends that liked to run decided they needed something to do on the 4th of July before the breakfast with the Rangers in Paris."
Pre-register by calling 208-847-1450 or email kvsi@dcdi.net.
Also, download the registration form on svinews.com and mail it to PO Box 340, Montpelier, ID 8254.
Same day registration is also accepted, however shirt sizes are not guaranteed for same day registration participants.
Let us know what you think!
Tagged:
4th of July
family events
fun run
Montpelier
SVSI