Golfers embracing "business as usual" mentality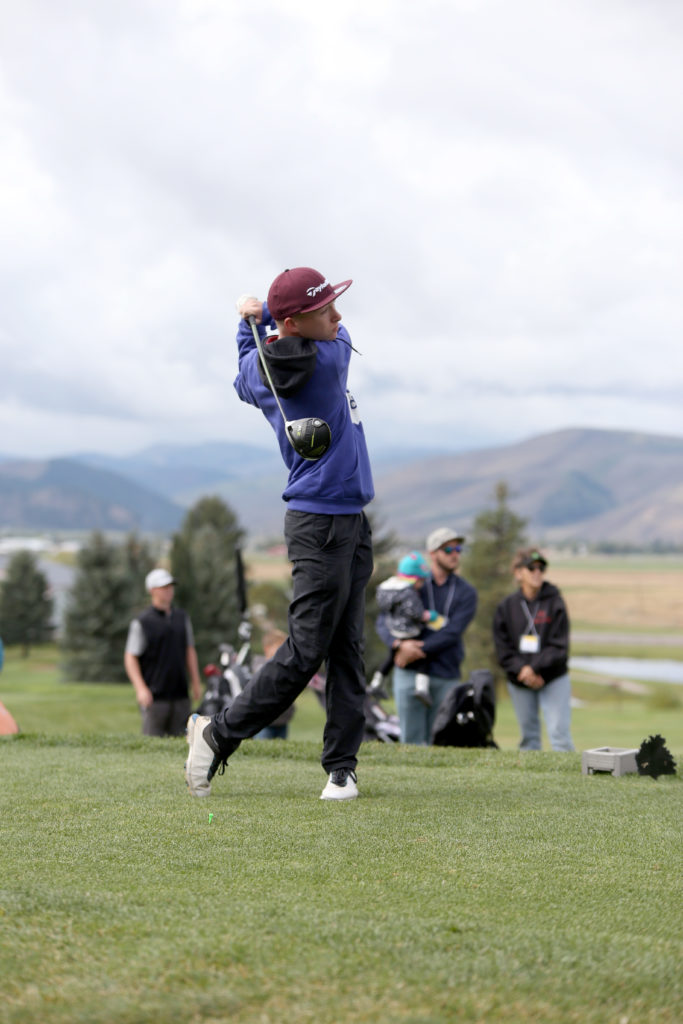 ——————
◆ Start of the prep season is just 39 days away
For most of the sports working through the summer, the very nature of the rules of play might have to be tweaked or bent to fit the summer of COVID-19.
That's not necessarily true for golf.
If you're talking about how we've responded to the pandemic and how there have been restrictions; I don't think we're feeling it like some other programs because golf is one of the safer activities," said SVHS head golf coach Kelly Fullmer. "I remember reading the Chicago Post saying golf is an oasis for stir-crazy Americans. According to Bryce Burton the rounds are up this year at Star Valley View."
It's true. Golf requires wide-open space and lots of green grass. Depending on skill-level, those factors may vary. Fullmer spoke with SVI about how the program is working with the Town of Afton for the use of the facilities but also the Junior Golfer program.
"A lot of our players are coming in on Wednesday afternoons," he said. " We have to limit the numbers but with our high school kids we have an open-range. They come out and are given use of the range and the practice green. Coach [Shawn] Johnson and I just circulate and do what we can. We do have some kids involved with the Eastern Idaho Jr. golf Tour. We're working with those kids on open range and we encourage them to just get out and play, play, play."
The program has been close to a state team title over the past decade but hasn't quite been able to secure one. What they have been is one of the more consistently good programs in the state. It's that consistency that might pay extra dividends in an off-season where familiarity could give teams the leg-up that they are looking for.
"Like a lot of sports programs waiting to start, we've been anxious and apprehensive," Fullmer continued. "There's been a lot of alternatives proposed but for now it seems like it's mostly going to be business as usual. We haven't heard much in terms of restrictions."

According to Fullmer, one of the biggest adjustments for the upcoming season may be more regional play rather than the overnight trips that have become common. He also commented on the teams that Star Valley will have to topple to be on top of the podium in September.
"Our toughest competition will be Lander," he stated. "They won it all here in Afton last season and they still have the best player in the state. Worland has a really good team and those are the two teams we finished behind last year. We had three All-State golfers so we were really competitive.
The Lady Braves will enjoy numbers that most Wyoming girls programs will not.
"Our girl's program we are experiencing a real surge in popularity so we are really looking forward to seeing what they can do," Fullmer continued. "Taylor Erickson is our top returning player along with Taylor Anderson. Nora Nielson and a few others got some varsity play last year. We should have a full team and a full JV team and be very competitive; excited to see how they do. On the boys side Karsen Spaulding is a 2-time All-State player and he'll be back. Then we have a group of players who are just beneath him and we're seeing them work on who will fill in those spaces this season as the play this summer."
Another adjustment to the pandemic is the decision to move the 3A State Golf Tournament away from Fremont County and reassign it elsewhere. Since shutdowns started taking place in mid-March, Fremont County has led the state in confirmed cases and currently has 356 of Wyoming's total. The Wyoming High School Activity Association (WHSAA) made the move to give Lyman High School hosting duties this upcoming season with Lander Valley pushed back on the schedule until 2021. Fullmer reiterated that things do change quickly.
"We were planning on going to Lander and then one day I happened to come across that Lyman was hosting so I called Lander's coach and he hadn't even heard that yet," he said. "It moved very quickly. The number of COVID cases in Fremont County prompted that shift. Lyman will host on the Purple Sage course in Evanston. It's a great municipal course and our kids will get a chance to play on it a few more times. so we're happy to play there."
Let us know what you think!
Tagged:
Karsen Spaulding
Kelly Fullmer
Lander Valley High School Golf
Purple Sage Golf Course
Star Valley High School Golf
Worland High School Golf
Wyoming 3A Golf