Governor talks healthcare, education, taxes in Star Valley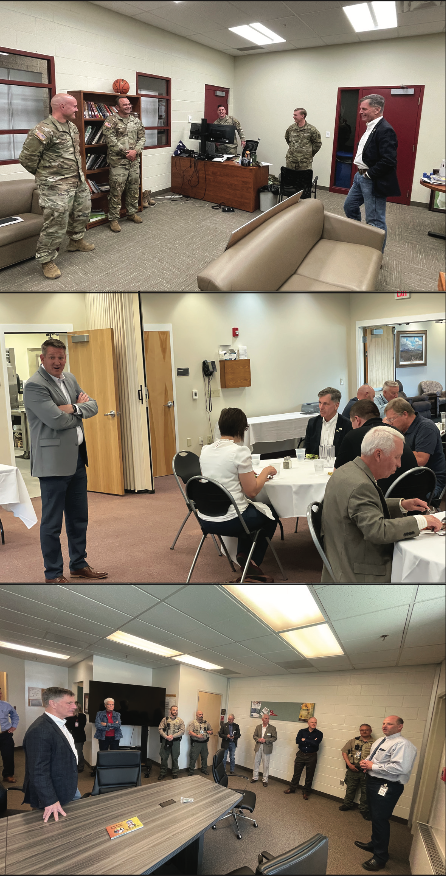 ◆ Mark Gordon discusses local and state issues.
Wyoming Governor Mark Gordon visited Star Valley on Monday, May 24, making stops at Star Valley Health in Afton and Alpine, Star Valley High School, the Afton Armory and meeting with members of the Wyoming and Star Valley Arts Councils. During his tour, SVI Media sat down with Governor Gordon to discuss his visit and current issues facing the state.
HEALTHCARE
During his tour, Governor Gordon took time to visit Star Valley Health in Afton and also visit the facility currently under construction in Alpine. "These facilities are certainly an example of how a rural healthcare system can actually expand, grow and be really productive," said Gordon. "We're looking at it as an example for the state and seeing things that we can do differently elsewhere."
The Governor also touched on the ongoing shortage in nurses and hospital staff that has impacted medical facilities nationwide, including locally and around the state. "Hospitals are struggling a little bit. It's been a lot of pressure. We've had to have National Guard help out at times, just because of the amount of stress that's been put on our healthcare system." Gordon said his office is increasing the amount of training and licensing programs in an effort to increase the amount of healthcare professionals in the workforce.
EDUCATION
Governor Gordon met with administrators and school board members of LCSD No. 2. They discussed issues facing the school district at a local level and ways the state can support staff and students through the education process, specifically the RIDE initiative started by the Governor last May. "What I've wanted to do is start from the ground up. Not with consultants and not have a top down approach, but really look into communities with it's parents."
The RIDE (Reimagining and Innovating the Delivery of Education) Advisory Group has recently collected over 7,000 surveys from parents and residents from around Wyoming. The results of the surveys are expected to be released this week. The RIDE Advisory Group will then hold a series of moderated community listening sessions in the coming aimed at building upon the results of the survey. The information collected will be developed into a set of recommendations for the Governor that will include specific actions to improve the education system in Wyoming.

During an interview on SVI Radio (Swift 98.7 FM and The Spur 107.5/106.7 FM & 1210 AM), LCSD No.2 Superintendent Matt Erickson noted that he spoke with the Governor about the current challenge of staffing in the district caused by high proper- ty values and increased pay for educators in neighboring states. "That was the biggest topic yesterday. It's the biggest challenge we're facing currently in educa- tion is recruiting and retaining quality staff, especially teachers," stated Erickson.
"That is one of the big concerns," stated Gordon. "How can a teacher afford to live here? We're seeing that with snow plow drivers. We're seeing that with law enforcement. It's an issue that we're going to be talking about over the next couple of years."
PROPERTY TAXES
In regards to large increases in home values and property taxes, Governor Gordon referenced work being done by the state legislature. "With property taxes, as you know, it's the state legislature that has to deal with that. It's certainly a concern across every county in the state. There was some limited relief that was proposed by this legislature this year. Go to the country treasurer to find the forms to fill out and get the specifics for what that relief is." Gordon credited the sharp increases in home values and property taxes to a jump in home sales from out-of-state buyers when other states shut down during COVID-19.
ENERGY
Speaking on the future of energy in Wyoming, specifically Lincoln County, Gordon said the goal is for the state to remain a leader in both production and innovation. "Wyoming is an all-of-the- above energy state. We are really pushing to have Wyoming be in a leadership role when it comes to new energy technologies, such as the Natrium Nuclear facility that is being built in Kemmerer," said Gordon. "We're also seeing solar. We were just in Cokeville where we saw the solar farming that is going on down there. Wyoming is really poised and ready to go." The Governor said these advancements have been made despite what he called "holdbacks from the federal government and the Biden Administration," referencing the moratoriums on new oil and gas leases.
"We have the best energy sources. And when we do it domestically we could solve the issues that we're seeing in Europe. I'm very excited about where energy is and I'm very excited to see the role that Lincoln County is playing now and moving forward."
ARTS
As part of the trip the Governor met with members of the Star Valley Arts Council and the Wyoming Arts Council, who held their quarterly board meeting in Star Valley on the same day. The Governor noted the importance of arts in the state. "Wyoming has a rich cultural heritage. It's kind of fun to see the arts council meeting here in Lincoln County and talk more about what's going on at the western edge. A lot of times they'll just meet in Cheyenne and Casper. There's just so much going on here that it's good to have them here."
NATIONAL GUARD
One of Governor Gordon's final stops of the day was the Afton Readiness Center where he met with local members of the Wyoming National Guard. "They've served overseas and will probably have some deployments coming up in the years to come. We really need to be appreciative of these men and women and I'm happy to be able to meet with them today."
Let us know what you think!
Tagged:
Governor Mark Gordon
LCSD No. 2
RIDE
Star Valley Arts Council
Star Valley Health
Wyoming Arts Council
Wyoming property taxes