Grand Teton National Park receives huge legacy gift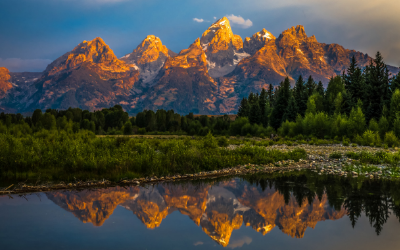 JACKSON, WY, JULY 26, 2022—Grand Teton National Park Foundation received an unexpected legacy gift of nearly $2 million from a passionate conservationist and filmmaker—Myrna Berlet. This extraordinary gift will support the Foundation's ongoing partnership work with Grand Teton National Park and will be used to begin an endowment for wildlife and natural resources conservation efforts, as well as youth engagement programs that introduce young people to the wonders of the natural world.
Myrna and her husband Walt ran a small educational film business—Berlet Films—that focused on wildlife. The pair traveled the world to collect footage of a variety of species in their habitat and created more than seventy films that were distributed widely to be used in classrooms, libraries, and educational lectures.
The Berlets spent many months filming throughout the Greater Yellowstone Ecosystem, developing a deep connection to the area. One of Myrna's greatest passions was to expose as many people as possible to the magic of the natural world and preserve our national parks for future generations.
"Myrna Berlet's estate gift is amazing," Grand Teton National Park Foundation President Leslie Mattson said. "After learning more about her story, we are humbled to honor her legacy by starting an endowment for our wildlife conservation and youth education efforts in Grand Teton National Park, which align with her life's work and passions. To receive a gift of this magnitude as we celebrate our twenty-fifth anniversary as an organization is truly inspirational."
Myrna Berlet's transformational estate gift demonstrates the incredible impact legacy giving can have on an organization and its mission. To learn more about how to make a planned gift to Grand Teton National Park Foundation, visit https://gtnpf.plannedgiving.org/gtnpf/giving/1.html.
• About Grand Teton National Park Foundation
Grand Teton National Park Foundation is a private, nonprofit organization whose mission is to fund projects that protect and enhance Grand Teton National Park's treasured resources. The Foundation initiates improvements, critical research, and projects that improve visitors' experiences, creating a solid future for Grand Teton. Since 1997, the organization has raised over $100 million for work-and-learn programs that connect youth to nature, preserve cultural resources, protect wildlife and natural resources, and capital projects such as construction of the Craig Thomas Discovery and Visitor Center, a $23 million campaign to preserve the 640-acre Antelope Flats parcel, the Inspiring Journeys campaign for Jenny Lake, and the purchase and protection of the last privately-held acre on the Mormon Row Historic District.

Let us know what you think!
Tagged:
Berlet Films
Grand Teton National Park Foundation
Greater Yellowstone Ecosystem
Myrna Berlet