Halverson applies for State Superintendent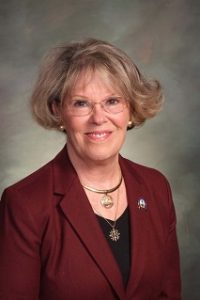 The Wyoming Republican Party accepted applications from those who wish to be considered to fill the vacancy left by former Superintendent of Public Instruction Jillian Balow.
BALOW RESIGNS TO TAKE VIRGINIA POSITION–
The deadline to submit application materials expired at noon Thursday, and the following people have indicated their interest in filling the vacancy: Michelle Aldrich, Megan Degenfelder, Reagan Kaufman, Angela Raber, Thomas Kelly, Jayme Lien, David Northrup, Joseph Heywood, Joshua Volk, Marti Halverson, Brian Schroeder Sr. and Keith Goodenough.

Interested applicants who missed the deadline may bring 75 copies of their application materials to the State Central Committee meeting at the Douglas Inn in Douglas on Saturday. Members of the committee will hear presentations from applicants at 3:15 p.m., then vote to choose three names to forward to Gov. Mark Gordon.
Interviews with the governor for the successful candidates will be scheduled for Tuesday morning, Jan. 25, at times to be determined.
Let us know what you think!
Tagged:
Angela Raber
Brian Schroeder Sr.
David Northrup
Jayme Lien
Joseph Heywood
Joshua Volk
Keith Goodenough
Marti Halverson
Megan Degenfelder
Michelle Aldrich
Reagan Kaufman
Thomas Kelly
Wyoming State Superintendent