It's "Back to School" for LCSD #2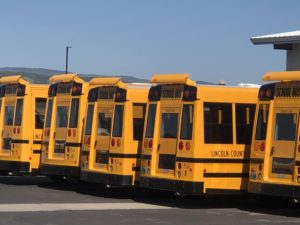 Welcome back to school!
Whether you are nervous or excited as a student, teacher, or staff member, remember this school year is a time to experience "Success at the next level,'' as stated in Lincoln County School District #2's mission statement.
Superintendent Matt Erickson said he's looking forward to continued student success in this new school year.
"Seeing the students and staff succeed, that's really where the joy and satisfaction comes from in this job," Erickson said. "We're fortunate enough that we're in the people business. We work with fantastic adults and exceptional students."
Erickson said if the students have the proper attitude and give them an opportunity they'll find there's wonderful teachers and support staff that will help reach the school district's mission and vision for each student and as a whole district.
He said he'd like the teachers and staff to keep a balance in their lives, and also focus on having the right attitude and strong work ethic.

"Teachers and staff have the resources and tools to find the student success," Erickson said. "If teachers embrace in working in collaborative teams the results [they're hoping for] will be much better."
Erickson said some accomplishments they are hoping for this school year are:
• to continue to see the graduation rate increase,
• ACT scores increase,
• and the WY TOP scores continue to show students are advanced.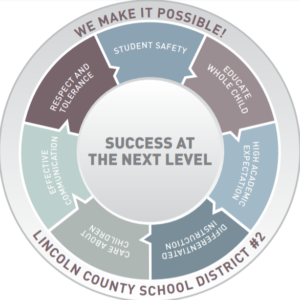 "Our focus is on learning, and we are also interested in the whole child," Erickson said. "It's not just about academics. We expect to have success on the field, on the court, in music and art. We're also very interested in students being successful mentally and emotionally."
Erickson said Lincoln County School District #2 is so successful because of the high expectations in our community and stakeholders.
He added, "With great families comes great students. We are extremely fortunate to live in the state we do and have the resources we do."
Nate Wescott, Director of Special Services, said, "Wyoming really funds special education the way it should. We meet demands quickly and we get resources to the staff to help the students quickly."
Wescott said the teachers and support staff make a great work environment for each other where they love their jobs and love working together.
"We have phenomenal support staff from transportation, maintenance, custodial, secretarial, to food services," Erickson said.
He said the district has a little over 500 employees and they just trained 22 certified new staff members for this coming school year.
"Last year was the first year our school district was over 2,900 students each month of the year," Erickson added. "We anticipate reaching the three thousand mark this year."
Wescott and Erickson said there are 48 districts in Wyoming and Lincoln County School District #2 is one of three or four districts that have an increasing enrollment in student body, while the rest of the state has a decreasing rate.
The district is looking forward to some special programs and changes in this coming school year as well.
Erickson said this past school year they just went through a cost effective remedy where the state has budgeted eight additional classrooms for Afton Elementary and three additional classrooms for Osmond Elementary, which helps answer the concern of capacity they were experiencing.
There will also be an enhancement at Star Valley High School. Erickson said the enhancement will be made to the Career Technical Education (CTE), which will mainly benefit the auto program. He said Cokeville High received a 50 thousand dollar grant to replace and enhance their CTE equipment.
Another improvement made to the school district for this coming school year was adding a mental health provider.
"We take a systematic approach to mindfulness and resilience, and we believe in it so strongly that we added another full time mental health provider to help students develop social skills," Erickson said.
Erickson said he appreciates the support of the school board and stakeholders.
"Our communities really do support us and make this all run smoothly," he said.
The first official day of school is Monday, August 26.
Let us know what you think!
Tagged:
Afton Elementary
Cokeville High School
Lincoln County School District #2
Osmond Elementary
Star Valley High School