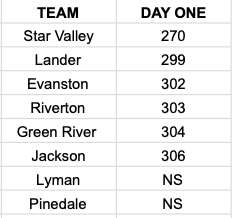 Day One of the Snake River Shootout was Wednesday August 10,  as teams played at Star Valley View Golf Course in Afton.
The Star Valley girls jumped out in front after the first day led by Jackie Simmons' score of 85. The team finished the day with a 270 with Jordyn Horsley (92) and Taylor Anderson (93) both shooting in the top-six.
The Lander Tigers are second with a 299. The Evanston girls are sitting third with a 302.
Green River's Isabella Salas lead the pack with an individual 78.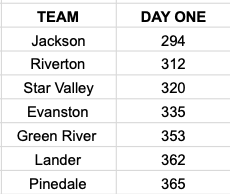 Riverton's Parker Paxton is leading the guys' side with a 66 and the Jackson Broncs leading the team race with a 294.
The Broncs stacked three players in the second, third and fourth positions with Mason Evans (69), Hayes Millham (72) and Jackson Neishabouri (72) nipping at Paxton's heels. The Wolverines are second with a 312 and Star Valley third with a 320.
The Braves are being led by PJ Horsley who shot a 72. Brigham Ordyna also had a terrific day, finishing with a 77.
The week kicks off the 2022-23 Wyoming high school sports calendar and the "Shootout" is a two-day competition with players getting a round in both Star Valley and Jackson Hole. All eight teams are in Jackson Thursday to play the prestigious Golf & Tennis Club.

Let us know what you think!
Tagged:
Brigham Ordyna
Cedar Creek Golf Course
Hayes Millham
Isabella Salas
Jackie Simmons
Jackson Neishabouri
Jordyn Horsley
Mason Evans
Parker Paxton
PJ Horsley
Snake River Shootout
Star Valley High School Golf
Taylor Anderson
Wyoming High School Golf