LDS Church releases statement regarding Florida school shooting
The Church of Jesus Christ of Latter-day Saints released this statement Thursday on the Florida school shooting: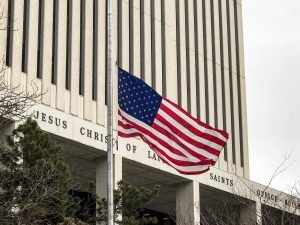 "Once again we find ourselves as a nation and as communities faced with a tragic loss of life and incomprehensible sorrow following the shooting at Marjory Stoneman Douglas High School in Florida. Among the many injured or killed were two members of our faith. To all of the victims and their loved ones, we extend our love. These are hours filled with grief, emptiness and a terrible sense of loss. We unite our prayers with millions of others who are mourning and praying for them."
Two LDS girls were among the victims in the Florida school shooting, LDS Church officials said. One of the girls died and the other is seriously injured.
Alaina Petty, age 14, died from her injuries after being shot Wednesday at Marjory Stoneman Douglas High School in Parkland, Florida, LDS Church officials confirmed in an emailed statement Thursday.
Madeleine Wilford, age 17, is seriously injured and receiving medical treatment at a local hospital. KSL.com reports both teens are members of the Coral Springs Ward of the Coral Springs Florida Stake.
The search for answers and healing continues in Parkland, Florida as the community struggles to deal with the loss of 17 people killed in one of the worst school shootings in U.S. history. Police say 19-year-old Nikolas Cruz has admitted to opening fire with an AR-15 at Marjory Stoneman Douglas High School on Valentine's Day. Cruz apparently talked with police after he was read his rights. There are also new reports emerging that Cruz told investigators he'd heard voices in his head telling him what he needed to do to carry out the attack.
Tagged:
Marjory Stoneman Douglas High School
The Church of Jesus Christ of Latter-day Saints