National Snow Bike Series Race begins January 16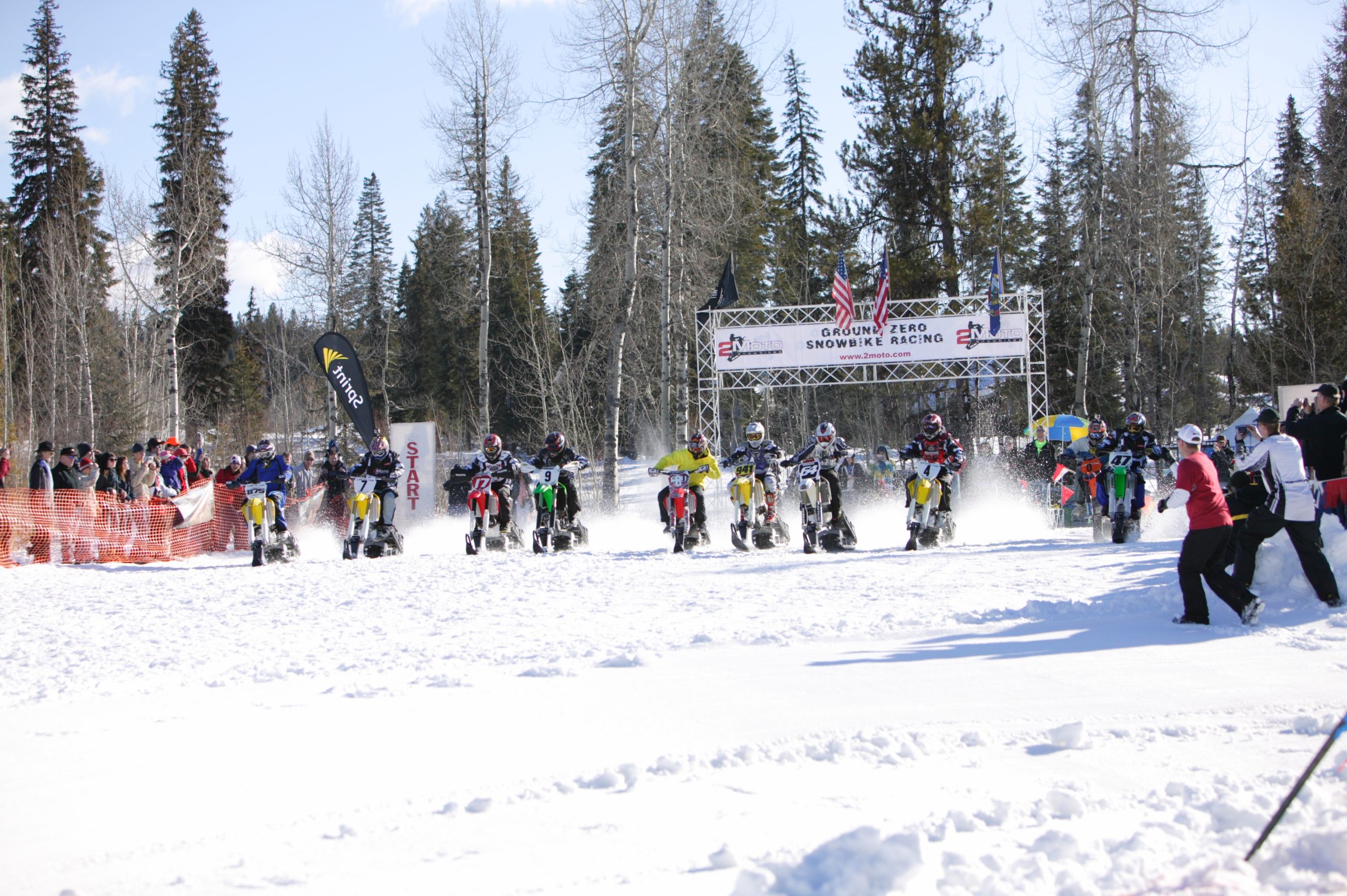 In Star Valley, winter sports – the faster the better – mean adrenaline-pumping, heart-pounding fun for anyone riding a machine with a throttle, skis and a track. Riders can be seen or heard in a blur through fields or catching air in the backcountry.
But come January 16, at Alpine, there will be a unique "first" for what many locals traditionally call "sleds." Note to visitors: calling them snowmobiles is a dead giveaway you're renting for groomed trails at Old Faithful.
At about 11 a.m. on that Saturday morning just south of the river adjacent the Melvin Brewing Alpine Brewery on a course described as a "3/4 long, 30-foot wide snow MX course with jumps, bumps and right and left turns," you'll see not sleds but motocross dirt bikes flying sideways and spitting the white stuff. These machines will have a single ski on front and a track on back where typically you see wheels. But they are called snow bikes.
In a race sponsored by the North American Snow Bike Association (NASBA), some 30 to 50 racers will rev their engines for Round One in the 2020 National Snow Bike Series. Entrants will be from throughout the country in this rapidly growing popular sport that has spurred races from Oregon to Wisconsin. Even a Star Valley resident is beginning to gain some notoriety. Local athlete Cody Hunt will wear a number and helped the snow bike association map out the course in Alpine.

"The event will get national recognition," Alpine Mayor Kennis Lutz told SVI Media as he lauded the race being sponsored not just by the NASBA, but also by several local and regional businesses as well as the U.S. Air Force. And if you can't be there to participate or watch, the event is being live streamed by some 1 million followers of Track Shot LIVE – the first time an NASBA race will be live streamed, said NASBA organizer Ron Dillon, who will be onsite to conduct this first round in the 2021 series.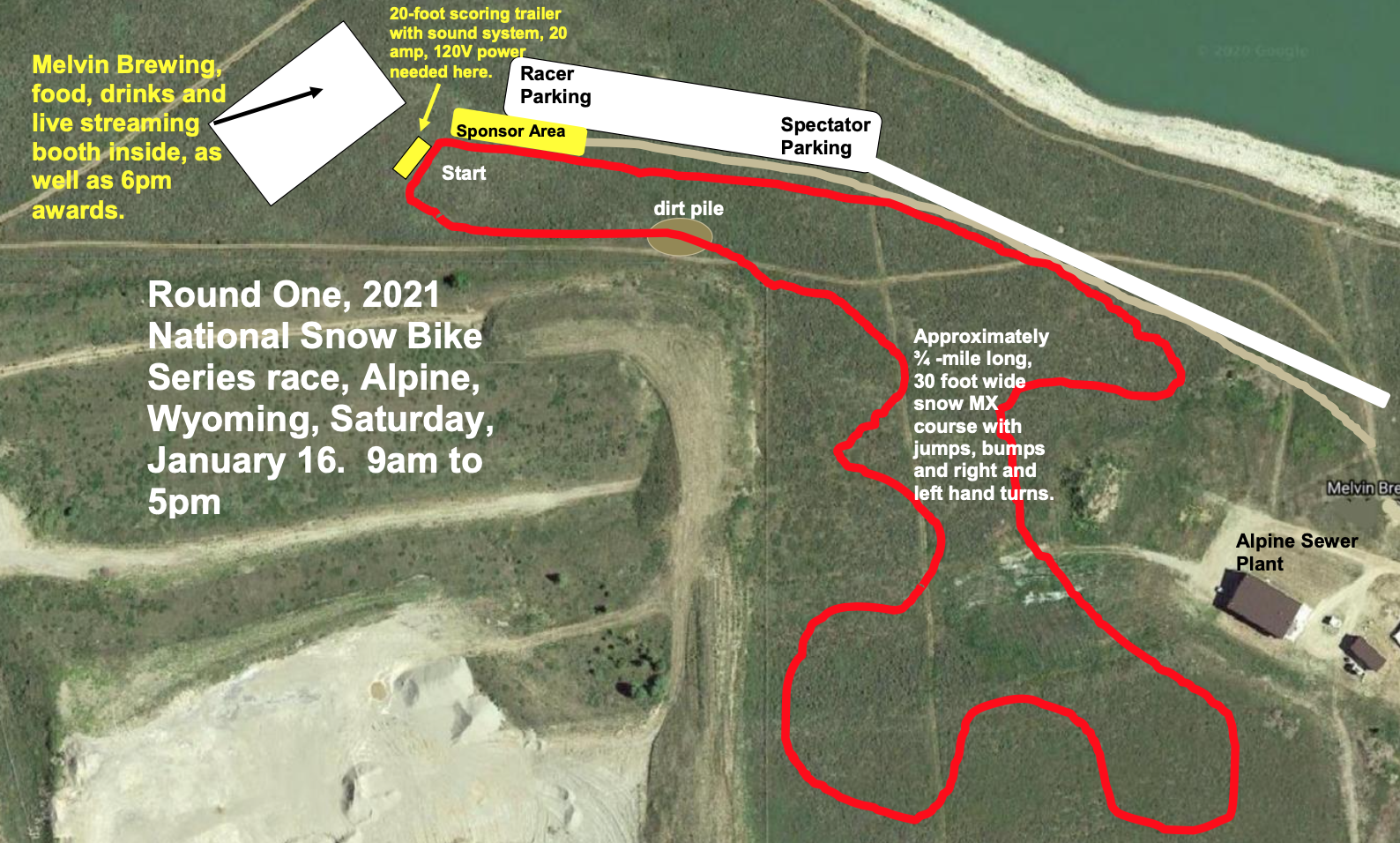 For Mayor Lutz, the snow bike race is a "win-win" for everybody – racer, spectator and participants in the traditional vintage snowmobile race scheduled for the following day.
"It gives our folks here a reason to get outside and participate in something, experience something that most people don't get to see," the mayor told SVI. "People have been so shut in. Half of businesses have been shut. We've had residential quota numbers for people being together."
But with this outdoor event, and people spread out to no more than 10 or 15 in a spot "we decided it was safe enough. We can abide the restrictions and still promote some businesses and recreation for our locals."
Hotels, restaurants, small businesses and "mom and pop stores" will benefit along with locals from "the mental boost, moving forward in this stepping stone to more and more winter sports [in Star Valley]," Mayor Lutz added.
And he's excited to see the reaction others will have to these motocross bikes on skis. "In 2017," he recalled, "a buddy of mine had one and went riding with us [on sleds]. That was my first experience with [seeing] them. It was amazing where they can go. The other thing that's unique about them is they side hill very easily."
Dillon has been involved in sponsoring races for NASBA since the first one in McCall, Idaho, in 2009, at a place they called "Ground Zero." The yearly series was launched in 2016.
"We would get 500 to 1,500 people come in the cold and snow and stand there and watch. We ran it from 2009 to 2014 at the golf course. We got too big for the course."
From there it went to the city park, and then at the end of 2020, the series was scheduled for Rexburg, Idaho, until COVID restrictions sent Dillon and NASBA searching for a new location.
"I knew somebody in Alpine, and I talked with Kennis [Lutz] and a number of people in town and it morphed quickly. Alpine was the way to go. They're kind of a snow zone," Dillon added, referring to the yearly snowfall here.
"It's all worked out for the best. I like Wyoming hospitality," Dillon added. "I think people are going to love this. I think the people would love to come and watch or race."
And Dillon knows hospitality when he sees it. In 41 years, the professional event organizer has conducted 255 events from Charlie Daniels concerts to motocross and motorcycle hill climbs.
Mayor Lutz described the response of the Alpine city council and businesses when Dillon contacted him with a little more than a month's notice after the event was cancelled in Idaho. He sought the reaction of the town council and others.
"We all agreed, 'Let's go for it.'"
The NASBA snow bike first round race for 2021 begins at 11 a.m. Spectators may begin gathering at 9 a.m. Racers will begin warming up their snow bikes – which typically are altered from wheels to skis and tracks via snow bike kits.

To watch live stream, see www.trackshotlive.com. For tickets or to enter the race, see bignasty.webconnex.com/2021round1 (for racers) or bignasty.webconnex.com/2021alpinetix (for spectators). For more information on snow biking, motocross and hill climbing events, see bignastyhillclimb.com, snowbikeseries.com, www.X12events.com or www.idahonitro.com.
Let us know what you think!
Tagged:
Alpine Wyoming
NASBA
National Snow Bike Series
North American Snow Bike Association