Pro-hunting groups join Elk Refuge fight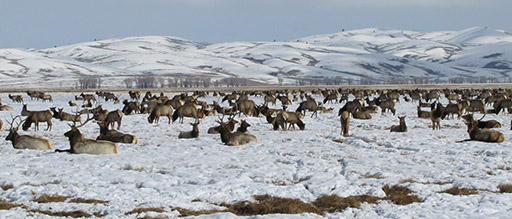 By Mike Koshmrl
Jackson Hole Daily
Via- Wyoming News Exchange
JACKSON — Three hunting advocacy groups have asked a federal court to join the legal dispute over what becomes of the National Elk Refuge's feeding program.
The Safari Club International — a regular participant in public lands litigation — filed paperwork requesting intervener status in the U.S. Fish and Wildlife Service and Earthjustice's dispute. That national organization was joined by a state and local group with less litigious backgrounds: respectively, the Wyoming Outfitters and Guides Association and Jackson Hole Outfitters and Guides Association.
"We have not, as an association, entered into any sort of intervener status on previous lawsuits," Wyoming Outfitters and Guides Association President Sy Gilliland told the Jackson Hole Daily. "This was our red line in the sand, so to speak. We have no intention of seeing Wyoming lose any of the state feedgrounds or the National Elk Refuge."
The loss of any elk feedlots, he worried, would lead to the "decimation of elk hunting" west of the Continental Divide in Wyoming where the controversial practice has taken place for generations.
Earthjustice, an environmental law firm that has litigated the refuge's feeding program before, represents the plaintiffs: the Center for Biological Diversity, Sierra Club and National Wildlife Refuge Association. The lawsuit challenges the refuge's "step down plan," a strategy set in motion last winter under a court agreement after several years of negotiations with the state of Wyoming.

Earthjustice managing attorney Tim Preso said when the lawsuit was filed last winter that the refuge's deference to the state while formulating the plan violated a judge's order from the last legal fight a dozen years ago.
"What's remarkable about this is they had the D.C. Circuit Court telling them where the red line was that they can't cross — Wyoming doesn't have a veto — and then they're willing to turn around and cross that line and give Wyoming a veto," Preso said. "It's not illegal to defer to the state, but what is illegal is when the Fish and Wildlife Service lets its deference to the state lead to violations of fundamental regulations that apply to the National Wildlife Refuge system, and that's what happened here."
Specifically, the lawsuit asks a judge to force the Fish and Wildlife Service, "within the shortest practicable period of time," to compel a "lawful, objective and science-based plan" to phase out the 108-year-old feeding program on the refuge.
The outfitting groups, meanwhile, say that's not a sustainable solution.
"You've got to have the feedgrounds so that the elk don't starve to death," Gilliland said. "None of us like it, but it's just the way it is, and there's a reason those elk feedgrounds were set up years and years and years ago."
Jackson Hole Outfitters and Guides Association President Carlton Loewer said that, as with the statewide group, it's also a first foray into litigation for his organization. Both are represented by Cheyenne-based Falen Law Offices, while Safari Club International is represented by in-house counsel.
"It's something that's important to all of the outfitters in this area," Loewer said, "and we all felt that it was something that we needed to have a seat at the table for."
Loewer said that he's willing to negotiate over the future of elk feeding but doesn't picture a future where the practice totally goes away.
"I think it needs to be addressed on a winter-by-winter basis," Loewer said. "I think it can be something that can be looked at. If we can keep these elk healthy during lighter winters and keep them off the refuge, then yeah, it's possibly an option to not feed."
The statewide outfitters association, Gilliland said, also plans to intervene on another legal dispute over elk feeding: A lawsuit challenging the U.S. Forest Service's decision to permit the Wyoming Game and Fish Department to feed elk in three areas at the Dell Creek, Forest Park and Alkali Creek feedgrounds.
The flurry of litigation is evidence that feeding elk in western Wyoming remains very contentious after more than a century — perhaps more so than ever now that it's being practiced while deadly, density-dependent chronic wasting disease is spreading on the landscape.
Tagged:
National Elk Refuge
The Safari Club International
U.S. Fish and Wildlife Service
Wyoming Outfitters and Guides Association