Search continues for missing kayaker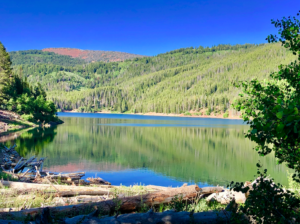 Members of the Lincoln County Search and Rescue, based out of Kemmerer, and the Star Valley Search and Rescue are looking for a missing kayaker in Alice Lake.
According to the Lincoln County Sheriff's Office, reports of a missing kayaker came into the Lincoln County Dispatch Center just before 5:30 p.m. on Monday, August 12.
"The Lincoln County Search and Rescue is searching the area and they are being assisted in that effort by members of the Star Valley Search and Rescue at this point," said Sheriff Shane Johnson. "It is an ongoing search. The area is not easy to get into and that is presenting some challenges."
The name of the missing kayaker has not be released, pending notification of family but Johnson confirmed that the person is a 21-year old Lincoln County resident.
In a conversation with SVI Media during the Weekday Wakeup radio program, Johnson said the search is ramping up on Wednesday, August 14 with the use of drones and sonar equipment as well as the cooperation from additional surrounding agencies.

According to Sheriff Johnson, efforts to locate the kayaker took place throughout Monday night.
"Those guys are all volunteers so they drop what they are doing and go out and search and we really appreciate that," Sheriff Johnson said. "They do the tough job and they do a great job."
Tuesday morning, Sheriff Johnson said that efforts were underway to secure some additional search equipment from neighboring counties.
"We will possibly be bringing in some resources from other counties, sonar and those types of things," Sheriff Johnson said. "Divers from Star Valley Search and Rescue are part of the effort. And there are divers from the Lincoln County Search and Rescue as well. We are doing everything we can at this point to try and see what we can do to have a positive outcome on this."
According to Johnson, as weather changes from summer to fall, recreationalists need to be mindful of temperatures and to be sure that they are not in the back country alone.
"Always be with someone," he said. "Your chances of survival go up if we are notified right away and can take action in the event of an accident or something like that. So make sure that you are with someone who can contact us if needed."
Tagged:
Lincoln County Search and Rescue
Lincoln County Sheriff's Office
Shane Johnson