Shopko to close all remaining locations, including Afton store
Shopko will begin to wind down operations and close all of it's remaining stores, the company announced Monday.
Shopko says in a statement that despite its best efforts, the company was unable to find a buyer for it's business. As a result, Shopko will commence an orderly wind-down of its retail operations beginning this week. Further, the Company is evaluating strategic options for its optical business.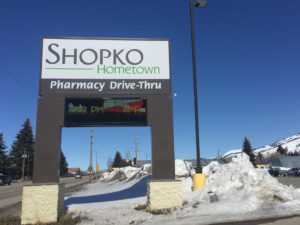 A liquidation process is expected to conclude 10-12 weeks from now.
The retail box store announced in January of this year that it had filed for bankruptcy and would close all of it's pharmacies along with two retail locations in Wyoming.  The company had then contemplated an auction but will no longer go through with those plans.
"This is not the outcome that we had hoped for when we started our restructuring efforts," said Russ Steinhorst, Chief Executive Officer in the written statement from Shopko. "We want to thank all of our teammates for their hard work and dedication during their time at Shopko."
In Wyoming, Shopko still has Hometown stores in Afton, Buffalo, Douglas, Newcastle, Powell, Torrington and Wheatland.
Find more details in the upcoming March 20, 2019 edition of the Star Valley Independent.