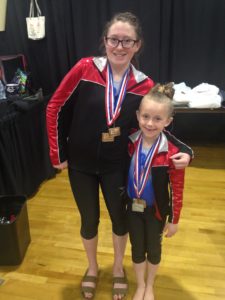 After a highly successful schedule in the region and in the Wyoming State Championships, nine members of Star Gymnastics made the trip to Kansas City, Missouri where they competed against several other states in the Region 3 Xcel Championships.
There were several standout performances which were highlighted by Harbor Winder's Regional Championship on the Bar and Ali Winder's Regional Championship on the Beam.
Coach Maurie Erickson explained that although there were nine girls from Star Valley competing, they were never all together at any point over the four-day event and at times there were two Star Valley athletes competing at the same time on opposite sides of the venue.
"It was in a big arena and they set up two gyms and they have gymnasts going on both sides," she said. Seven of our nine girls started on the Beam which is crazy!"
Harbor Winder put together an exceptional Bar routine for a championship.
"She totally nailed it and she rocked her floor routine and placed second there as well," Erickson added.
With each age group divided up into sub-groups of 20-25 girls to have the majority of the Star Valley athletes finish in the top half of their events was very satisfying according to Erickson.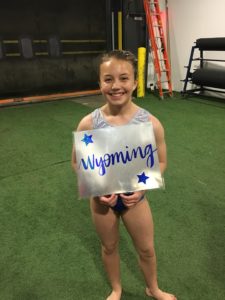 "I think it really drives these girls and it shows the community just how strong our program is," she said. "They go and compete on the stage against seven other states. At the beginning Texas has 50 girls and Colorado has a bunch and Wyoming has just one or two. So when they go to the big events center and they walk in and hit their routines and do what they do and realize that they can compete against the best. To watch their accomplishments grow and see how driven they are is amazing."
Erickson emphasized that some of the girls were performing at the Regionals for the first time.
Valerie Jirak was a Gold and this was her first time at Regionals too. She rocked her vault. She's really strong and got seventh place there. She nailed her Beam too and one of our top all-around placers."
Erickson pointed out Yena Skinner's performance on the Bar.
"We have worked so hard on Bars this year and when they bounce their bodies off the bar they have to reach certain criteria and she nailed it and placed fourth. She had a very consistent meet and was 12th in the All-Around."
According to Erickson Ali Winder bounced back from an uncharacteristic fall on the Bars with a Beam Regional Championship and an eighth place finish in the Vault.
"For her to finish 14th overall after a fall in an event in the Platinum group; I thought that was pretty impressive," she added.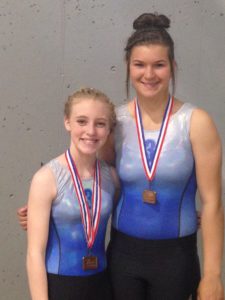 The highest All-Around finisher was Kezlee Jenkins who placed third in the Vault and the Beam and finished eighth in the All-Around.
Finally, Layne Robinson was the lone athlete competing in the Diamond group which is an elite level for Xcel gymnasts.
"There were approximately 1500 athletes that competed in this meet of all levels," Erickson said. "There were probably about 20 different sessions and of those sessions; 13 of the sessions were Gold Athletes. There were five Platinum and two Diamond which is the highest level. Layne was our only Diamond athlete that went and she ended up nailing her Floor routine and placed sixth and that was a huge accomplishment."
2019 Region 3 Xcel Championships
Gold Athletes: Harbor Winder – Regional Bar Champion, Vault (19th), Beam (11th), Floor (2nd)
Kerrigan Dana – Vault (17th), Bars (11th), Beam (11th), Floor (13th) All-Around (13th)
Addison Mizner – Vault (23rd), Bars (23rd), Beam (18th0, Floor (22nd), All-Around (23rd)
Casey Beeson – Vault (19th), Bars (13th), Beam (18th), Floor (13th), All-Around (17th)
Valerie Jirak – Vault (7th), Bars (18th), Beam (9th), Floor (13th), All-Around (11th)
Yena Skinner – Vault (13th), Bars (4th), Beam (16th), Floor (11th), All-Around (12th)
Platinum Athletes: Ali Winder – Beam Regional Champion, Vault (8th), Bars (19th), Floor (5th), All-Around (13th)
Kezlie Jenkins – Vault (3rd), Bars (14th), Beam (3rd), Floor (10th), All-Around (8th)
Diamond Athlete:
Layne Robinson – Vault (11th), Bars (15th), Beam (19th), Floor (6th), All-Around (16th)

Tagged:
Ali Winder
Harbor Winder
Kerrigan Dana
Layne Robinson
Region 3 Xcel Championships
Star Gymnastics
Yena Skinner