Star Valley Half-Marathon takes place this Saturday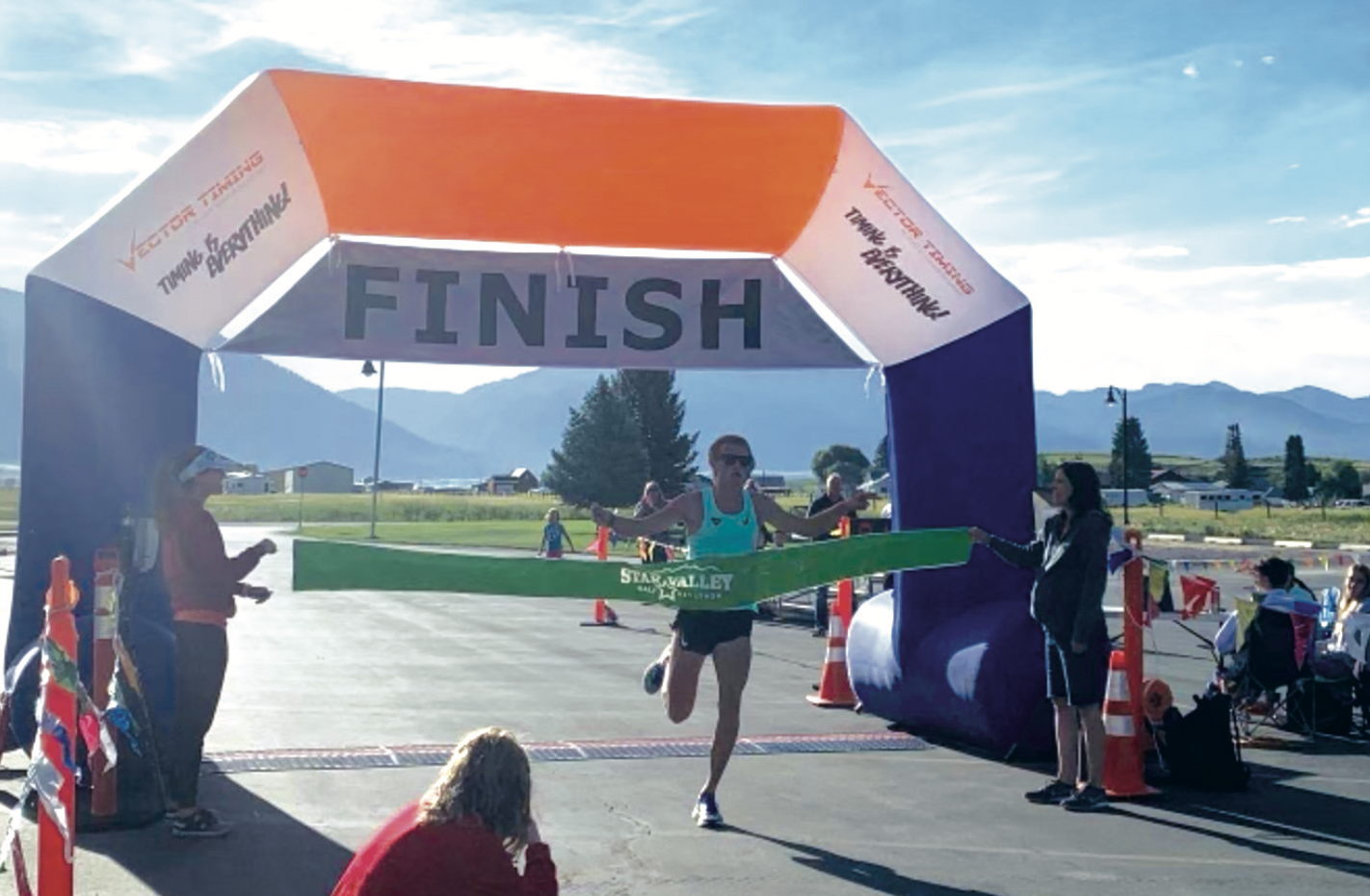 ◆ Base will be at Thayne Elementary School
Half marathon enthusiasts nationwide are expected to gather this Saturday in Thayne for the 12th annual Star Valley Half Marathon. The race takes place every year in honor of Star Valley resident Jeremy Kunz who was killed in 2009 by a drunk driver while participating in a racing event in Henderson, Nevada. Participants are transported from the Thayne Elementary School at 6 a.m. to the race start line in Turnerville.
Beginning at 7 a.m., the course of the race follows County Road 123 north through Turnerville and Bedford, and then transitions onto County Road 122 into Thayne, finishing at the elementary school. Participants should arrive at the elementary school by 6 a.m. to catch the bus which will transport them to the start line.
We have had up to 400 people participate in the race, but generally, we average 300," said race organizer Denise Kunz in an interview with SVI News last week. "We have people come from all over the United States. There is a national half marathon club and members of the club do a half marathon in each state. That's their goal. We're usually the one they do in Wyoming. We have people from all over the country signed up now because this is their Wyoming race and TripAdvisor awarded us the top half-marathon to run in Wyoming."
When Jeremy was killed, the family determined that they needed to organize a race in Star Valley to honor his memory and to heal themselves. "We want to remember him," explained Kunz. "Running is such a healing thing. His birthday is July 12, so that's why we chose the second weekend of July. It's really helped us heal, especially through those first few years. You know, we just have to put this on and remember him and celebrate this beautiful valley and people."

Registration proceeds from the race go to help other individuals and families in the community who are experiencing challenges similar to the shock and grief that the Kunz family experienced in 2009 with Jeremy's death.
"We just give it back to people that we see who are in need like we were," said Kunz. "That's what we raise the money for is to share with others. The proceeds go to people in need. They don't all go to the same person and we don't advertise who we give it to."
"We also wanted to provide a really top-notch event because we like a good race, and so we just try to make it the best we can, because people come from a long way to do it and we want them to be happy they chose to come," Kunz continued. "The runners are kind of like a racing family. We have those who come every year and we're just so happy to see them again."
Preparation for the race each year is shouldered by various members of the family who divide the responsibilities and use their personal skills to contribute.
"This is our family reunion for the year, and everybody helps with their skills," explained Kunz. "We have a son-in-law who makes the trophies by hand and our daughter-in-law, Jeremy's wife, designs the metals. They are different every year. Everybody has skills that help it all come together."
Kunz is pleased that the public participates on many different levels. Some participants run, some walk. Some people run or walk in memory of loved ones and others participate to push themselves and grow. The community provides consistent support. This year, there are 130 volunteers providing aid stations, water, and other support to the organization of the event.
She is proud of the way the family chooses to conduct their race. "A lot of races shut down after a certain period of time because they don't want to wait around, and we do not do that. We want everyone to feel like they can have success, so we even wait for the walkers and for everyone to come in, so everyone can have a successful finish where we cheer for them when they come in."
Participants can pick up their race packets on Friday evening at the elementary school between 6 and 8 p.m. Race packets are also available for pickup on Saturday morning prior to the race. Pre-registration is available at starvalleyhalfmarathon.com. Participants can also register the morning of the race. Those walking or only participating in a portion of the race do not need to register.
Kunz invites members of the community to come to the event and participate in any way that they choose. "Even if you want to just come and cheer people on, come see the finish line and all the people come in. The finish line is just amazing. You see people's emotions and how hard they have worked on something and then they achieve it and it's amazing. You are welcome to walk or to cheer. It's always a beautiful day in Star Valley in the morning. Come and join us, even if you don't run. Just come and cheer people on. We have volunteers all along the course who do just cheer people on. That's why it's a fun race to run – because there's people everywhere cheering you on, making noise, squirting you with water. It's a fun day."
Let us know what you think!
Tagged:
Bart Kunz
bedford
County Road 122
County Road 123
Denise Kunz
Jeremy Kunz
Star Valley Half-Marathon
Thayne Elementary School
turnerville
Wyoming half-marathons