Star Valley's Second Annual Youth Hunter Education Challenge slots are full

***Update***
Per the YHEC Facebook page: "At this Time registration is closed and FULL!! We have all 48 participant slots filled
We will announce later if we have any spaces open up! Thank you to everyone that has registered, it's going to be a great year!!
I do still have at least 1 coach opening available, it wouldn't hurt to have 2 on a team so definitely could have a few more! If anyone is interested!"
—————-
Original Story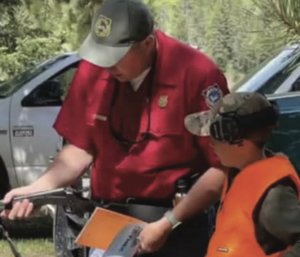 The Youth Hunter Education Challenge (YHEC) is an NRA event, hosted nationwide with state, regional and local events. This year's local event will be held on June 16 and 17 in Grover Park (Bear Trap Gulch).
Organizer Hanna Buxman shared with SVI that she, along with her husband Nic, moved to Star Valley and thought "What can we bring to the area for the kids."
Last year was the first NRA YHEC event for Star Valley, with Hanna and Nic Buxman taking charge.
Hanna Buxman recalled being involved in the YHEC program in Colorado with her brothers and sisters and "thought this would be the perfect type of event."
"I know this area is so strong [with the] heritage on hunting and shooting and just being outdoors," she said. "We really advocate for getting kids outside as much as we can. Turn off the TV, go out and spend time with your family. This is a great way to get them out there and bring things together."
Buxman praised participants and participants' family and friends who came to support them at the first annual YHEC event last year saying, "The quality of people and kids that we had come out was amazing. We picked up trash before [and after] the event and left it cleaner than when we got there… all voluntarily."
A Hunter Safety card is required to participate for youth, ages 12-18. There are eight events, including; .22 Rifle, Archery, Muzzle-loading, Shotgun, Orienteering, Wildlife Identification, Hunter Exam, and a Hunter Safety Trial, which is led by Game Warden James Hobbs.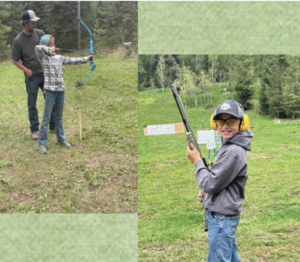 The focus on all eight events and the YHEC as a whole is safety. Everything taught revolves around safety as top priority.
Buxman hopes that the participants who grow up to hunt, fish, and participate in other outdoor recreation, will "know how to do it responsibly and have the up-most respect for wildlife and other people."
In 2022, a post-event survey was sent out with participants mentioning their motivation to continue what they have learned with one expressing their goal to become a game warden in the future.
The Buxmans work closely with Game and Fish and the Game Warden as they acquire the proper permits to host the event in Grover Park.
"We do have options for individuals or businesses to donate or sponsor," Buxman shared. "We have loner equipment, for the kids who don't have it…so we are working on buying new stuff as well as having sponsors help with the awards for the kids."
Those who would like to participate or help with the YHEC event can do one of the following:
Visit the Star Valley Wyoming YHEC Facebook page or visit StarValleyWyomingYHEC.godaddysites.com. The website has all the information and forms needed to participate. You may also contact Hanna Buxman at 307-248-3006 or Nic Buxman at 307-248-1362.
Let us know what you think!
Tagged:
Grover Park
Hanna Buxman
NRA
Youth Hunter Education Challenge