SVI Media to broadcast state football games under new NFHS partnership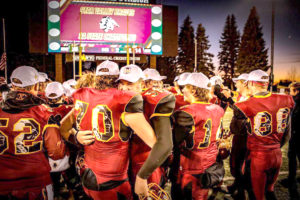 At the beginning of the 2019 high school football season, the Star Valley Braves were heavy favorites to repeat as state champs in Wyoming's 3A class. The team is now just one win away from achieving their title goal as they take on the Powell Panthers this Friday afternoon at War Memorial Stadium in Laramie.
The culminating event comes after an undefeated season, all while taking on some of the top competition from around Wyoming, Idaho and Utah.
SVI Media has joined the Braves along the journey, bringing every snap into your homes, motel rooms, cars and even hunting camps with live, multi camera, high definition coverage.
Since zero week against Summit Academy in Utah, nearly 500,000 views for Star Valley football broadcasts on SVI were reported by Livestream. Including a record breaking 65,000 total views for last week's Jackson at Star Valley semifinal game.
In previous seasons, however, the SVI video coverage would end after regional and semifinal rounds. Video broadcast rights for state championship events were and are still owned by the National Federation of High Schools Network, a nationwide broadcast company that is known for a large quantity of events broadcasted but not necessarily their quality — at least in Wyoming.
However, last season SVI Media was subcontracted by the NFHS Network to produce all live video coverage for all classes of state football. The content was streamed live on the NFHS platform. That will once again be the case for all championship games this season, but with a little extra sauce included in the deal.

After weeks of negotiations and back and forth conversations spearheaded by SVI Media's Executive Producer and owner, Dan Dockstader, an agreement was finally solidified just days before the semi-final round of the playoffs.
"Last year SVI Media was thrilled to have the opportunity to produce the video broadcasts for the state games," Dockstader said. "It gave us great exposure and brand recognition across the entire state, and let us and our viewers be part of last year's state championship season for our hometown Braves."
"However," Dockstader continued, "SVI Media basically donated our time and services for those broadcasts. And this year in order for it to work we needed the NFHS to bring more to the table. And they did."
The new agreement not only allows SVI to once again produce the live video coverage for 6-man through 4A state football, but it will also increase the exposure and reach of Star Valley High School athletics. Moving forward, all SVI Media broadcasts, regardless of sport or school, will be simulcast on the NFHS Network.
Don't worry, this does not mean you will have to pay to watch your Braves. All games, with the exception of state championships, will remain free for live viewership at SVInews.com and on SVI's channels on Livestream.
The new agreement also states that SVI Media will no longer be subject to postseason broadcast fees imposed on local and private broadcasters who wish to cover their local team after the regular season This includes not only playoff football, but all sports that SVI has the ability to broadcast in the postseason.
David Cazier, Senior Producer of Video Production at SVI Media, states that this agreement with the NFHS is groundbreaking.
"The NFHS broadcasts high school sports all over the country, from coast to coast," Cazier explained.
Cazier went on to confirm that "according to NFHS management officials, SVI provides one of the best high school sports broadcasts in the nation."
"That's one of the main reasons they were willing to negotiate this agreement," he said. "We are the only broadcast company in the U.S. that has this type of collaboration with the NFHS."
According to Cazier, the NFHS has subcontracted championship coverage in other states but have never directly simulcast a third party's broadcast during the regular season.
So how do you watch the Braves this Friday as they compete for their second consecutive title and fourth in five years? You watch on the NFHS Network.
The easiest way to find the game is to go to nfhsnetwork.com and type in Star Valley football in the search bar on the top of the website. The event will come right up and you can connect to the live broadcast from there.
Yes, you have to pay the $10.99 NFHS fee to watch. It is a subscription, so unless you want to be charged every month, be sure to cancel your subscription after a few days.
As always, the championship game will also be broadcast live on local radio on Swift 98.7 FM, SVInews.com/radio and the SVI Media App. There is no charge to listen.

"As SVI Media continues to grow and offer more and more quality sports coverage around Wyoming and Idaho, we are excited to finally be in partnership with the NFHS." said Dockstader. "We are always looking for ways to improve our product and extend our reach. We have plans and ideas to go bigger and better than what we have already done."
Let us know what you think!
Tagged:
National Federation of High Schools
NFHS
SVI Media broadcasts
WHSAA
Wyoming High School Activities Association
Wyoming State Football Championships