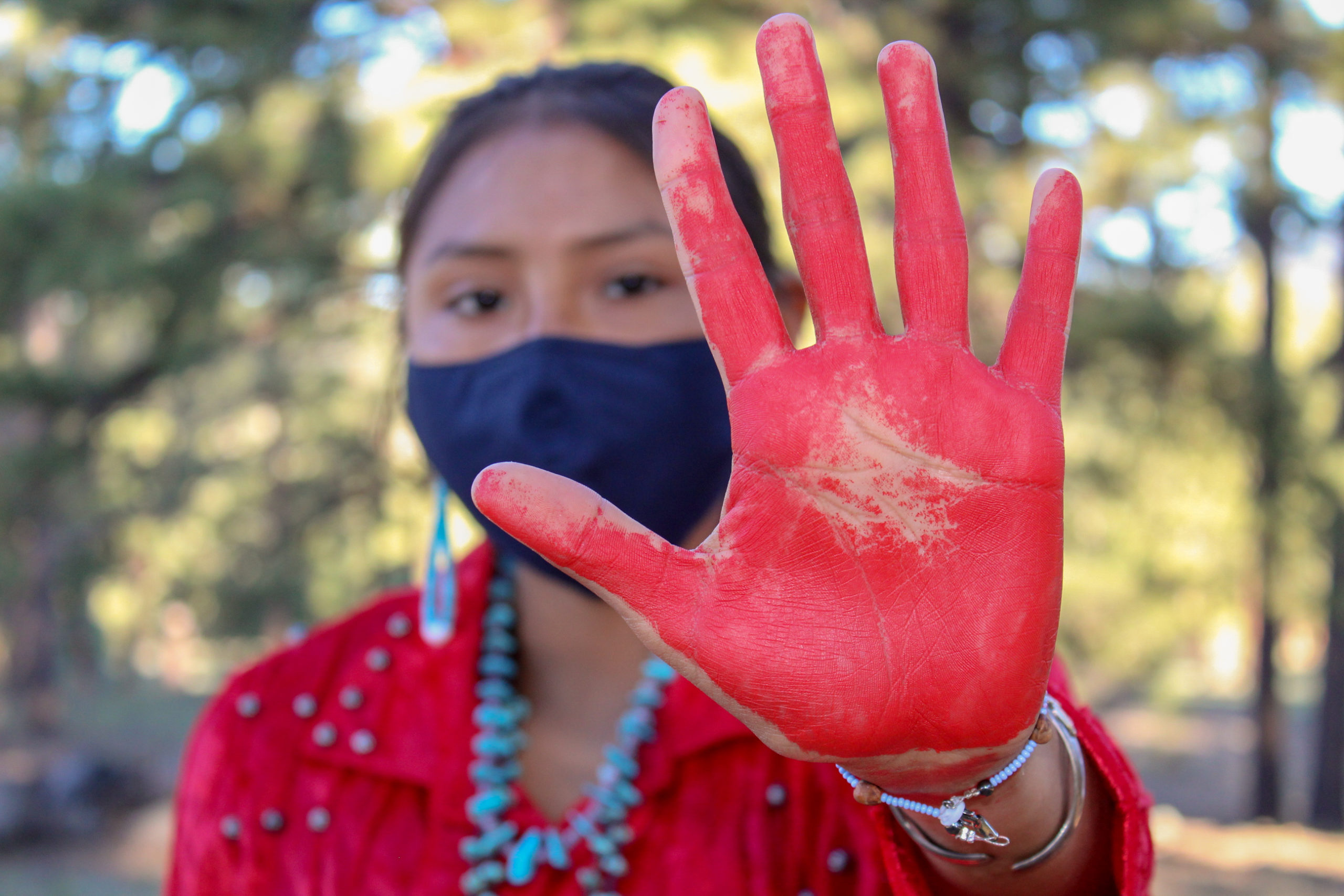 By Trina Dennis Brittain
Rocket Miner
Via- Wyoming News Exchange
They go missing or are murdered at excessive rates. They become numbers. Eventually, though, even the numbers disappear.
According to the U.S. Department of Justice, Native American women are murdered at a rate higher than the national average.
Missing and Murdered Indigenous Women (MMIW) is an epidemic of violence against indigenous women. A national movement to raise awareness of MMIW and girls had barely started about seven years ago.
Caldera Productions, a Wyoming-based documentary film company, wanted to "bring these missing women to life" on screen, through animation and first-person storytelling in "Who She Is."
Learning the names of these women wasn't the only gain from this presentation, which was held at the Broadway Theater in downtown Rock Springs on Thursday, Feb. 2.
A handful of Sweetwater County residents had the opportunity to hear their stories.
Filmmakers Jordan Dresser and Sophie Barksdale discussed the importance of empowering indigenous voices in solutions to put an end to this epidemic.
According to Dresser, "no one is talking about missing and murdered indigenous women."
"Often times, we are regulated to the past, so it's hard for some people to realize that Native Americans are contemporary people," said Dresser. "We're not very visible in the media and that's a huge thing."
The next showing of "Who She Is" takes place in Casper on Thursday, March 2. Dresser said that he hopes that "people will walk away with the idea that they can do something" to end this epidemic.
Dresser mentioned that House Bill 18, "Missing Persons Alert System," was voted in favor by the House Labor, Health and Social Services committee in Cheyenne on Jan. 16. (It passed second reading in the Senate on Feb. 9.)
HB18 is an alert systems bill that would cover adults at risk and require Wyoming law enforcement agencies to help local tribes with setting up a missing persons communications network.
"Individuals can take action by talking to their legislators and local lawmakers," Dresser said. "We need to convince them to support this act because it will benefit us all in Wyoming."
"Governor Gordon has been a very big ally with this and he actually created a task force made up of members in this state," he mentioned. "Their goal is to find more data about it. Some things don't go reported."
According to Dresser, there are only 16 full time police officers trying to cover 2 million acres in the Wind River reservation.
"I'm really grateful for this film," he said. "I think it will spark some really great conversations and most of all, it honors the women who aren't all featured in it — we need to keep sharing their names and stories."
Barksdale hopes that through this screening that everyone will have the opportunity to "connect with each character."
"We hope that this film can encourage people to look beyond the statistics. We hope that people can carry these women in their hearts, care and have empathy for this epidemic in a meaningful and real way," said Barksdale. "It's easy to overlook statistics and say 'That's not me' or 'I don't know anyone so I don't have to look at that statistic', but when you know someone, you care about it.
"It's our goal for everyone here to know these women intimately before they leave."
Rock Springs resident Sharon Pribyl was one of the attendees at the "Who She Is" screening.
"I know from a friend, who is Northern Arapaho, that murders, kidnappings and trafficking happen and it's scary," said Pribyl. "People think if we don't talk about these things, these things don't happen."
Rock Springs resident Maria Viking wanted to know how she can help since she was leader for the Girl Scouts in the past. She recalls teaching scout members how to stand up for themselves and protect themselves.
"Having the awareness and spreading the word is so important," said Viking. "I hope I can help other communities."
The screening was sponsored by Wyoming Humanities and Wyoming Council for Women, (WCW).
"I hope people will be able to understand the great challenge of murdered and missing indigenous women," said Jennifer Wilmetti, WCW chair. "We need to keep shining a spotlight on this problem so it can be addressed into a greater extent of the future."
Rock Springs resident Juanita Guthrie said that these problems "are swept under the carpet."
"I've lived in Riverton," said Guthrie. "I know women and young girls are disappearing, but people don't care. There needs to be a change."
Domestic violence, addiction and economic issues were tied to the cases in the documentary, as well.
In the documentary, Abbi Washakie, a member of the Eastern Shoshone tribe, was killed by her intimate partner. He put her body in a dumpster and tried to hide it with belongings from their home. Her body was found the next day, but her family is still in turmoil since he was sentenced to prison for only five to 10 years.
Washakie is voiced by her granddaughter in the documentary.
The lives of Sheila Hughes, Jocelyn Watt and Lela C'Hair were also featured in the documentary.
Terri Markham, co-founder and executive director of Uprising, a non-profit organization that confronts human trafficking through awareness and education, said, "We're so grateful for the Division of Victim Services for sponsoring this film tour."
She added, "Human trafficking intersects with missing and murdered indigenous people often and it's so important for our communities to be more informed of the issue.
"Uprising often receives disclosures of suspected human trafficking occurring within tribal lands in Wyoming and surrounding areas."
After the screening, several attendees gathered to share their thoughts about "Who She Is."
"My grandfather taught me to be still, quiet and listen," said Zebbie Davison, an Arkansas native who is affiliated with the Cherokee tribe. "Everyone has a story to tell. If we don't tell our stories, we'll just fall through the cracks."
Cammie Machedo, a Sweetwater County resident, said, "It really hits home."
Machedo is affiliated with the Navajo tribe. She mourns those who haven't returned to their families.
"Even though I've had my own traumas, I have unique privileges in my life right now," she shared. "I'm in a place I'm proud of and I feel safe, but it still freaks me out that a lot of our indigenous sisters haven't come back."
Let us know what you think!
Tagged:
Caldera Productions
Jordan Dresser
Missing and Murdered Indigenous Women
MMIW
Sophie Barksdale