Wolf killed after multiple livestock slayings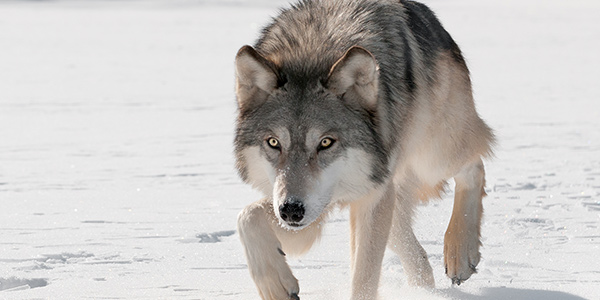 LOVELL (WNE) — A male gray wolf, originally collared in the area of Dillon, Montana, was killed by the USDA WiIdlife Services after it predated on two goats and a lamb on two north Big Horn County ranches.
The kill took place north of Lovell, near Crooked Creek. Since the land the wolf was killed on was east of Highway 120, it is classified as a predator zone. Predator zones are established to reduce predators in areas where they chronically feed on livestock, sheep and other domestic animals.
Due to the wolf's location in the predator zone, the kill by Wildlife Services was lawful, according to Michael Burrell, the acting director for Wildlife Services.
The male wolf was first reported on Monday, Feb. 6, after the goats were attacked and one killed. Burrell said Wildlife Services closely monitored the area. On Friday, Wildlife Services successfully tracked the wolf through its collar and flew to it in a fixed-wing aircraft.
"You have the pilot up front and the gunner sitting in the back," Burrell said. "The fixed wing is set up with telemetry equipment, which allows us to track the wolf from within the aircraft. Once we identify the wolf, we can drop down and acquire our target."
Burrell said Wildlife Services located the wolf on deeded property in the process of eating the freshly predated sheep.
"The wolf had the sheep in its jaws," Burrell said.
Both Burrell and Colten Galambas, local game warden with Wyoming Game and Fish Department, stated that there have been no reports of a second wolf in the area.
"This wolf was alone," Burrell said.
Let us know what you think!
Tagged:
Big Horn County
Crooked Creek
Highway 120
Michael Burrell
USDA Wildlife Services
Wyoming Game and Fish Department