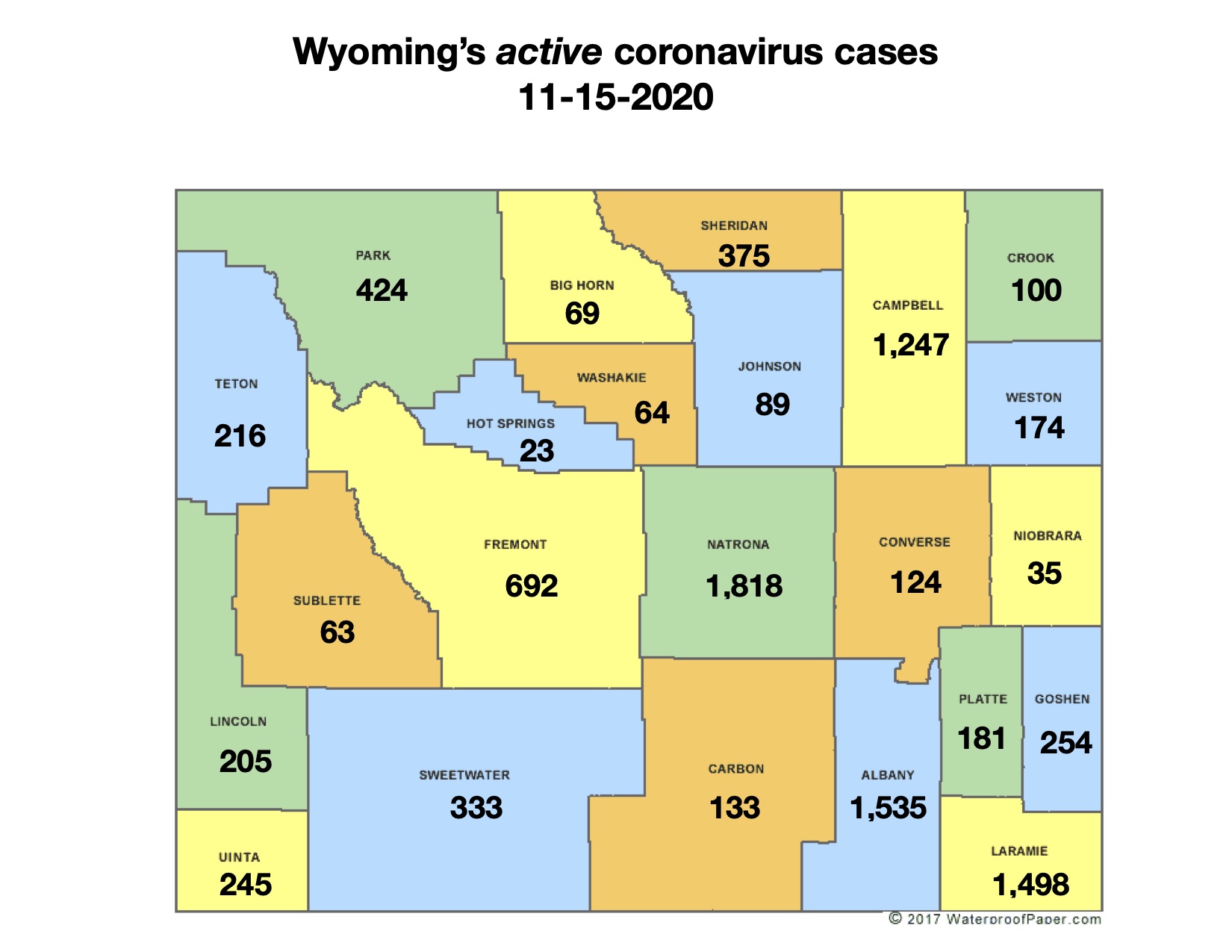 By the Wyoming News Exchange
Another 17 Wyoming residents have died due to the coronavirus, the state Health Department confirmed on Saturday, bringing the number of COVID-19 deaths in the state to 144.
Seven of the state's latest victims of coronavirus — five women and two men — were from Natrona County. Six of them were older adults, and five were residents of a long-term care facility.  Five had health conditions recognized as putting them at higher risk of serious illness from COVID-19, but only two of the seven were hospitalized.
Other victims of the virus included the following:
An older man and older woman from Albany County; an older man and older woman from Crook County; an older man from Fremont County; an older Laramie County woman;  two Lincoln County residents, an older woman who had been hospitalized both in Wyoming and outside of the state and an older man who had also been hospitalized in two locations; an older Park County man who had been hospitalized in another state; and an older man from Platte County.

According to the Health Department's website, deaths among Wyoming residents are added to the state's coronavirus-related death total based on official death certificates that list COVID-19 as either causing or contributing to a person's death.
The Health Department also reported on Saturday that the number of laboratory-confirmed coronavirus cases in the state increased by 483, bringing the state's cumulative number of cases to 18,726.
New cases were reported in 22 of the state's 23 counties; only Hot Springs County did not show an increase. The greatest increase in coronavirus cases were in Albany County (76), Fremont County (60) and Teton County (48).
The number of probable cases statewide increased by 57.  When combined with new reports of an additional 165 recoveries across the state, Wyoming was left with 9,490 active coronavirus cases, an increase of 358 from Friday.
Albany County had 1,478 active cases on Saturday; Big Horn County had 63; Campbell County had 1,201; Carbon County had 116; Converse and Crook counties both had 105; Fremont County had 679; Goshen County had 237; Hot Springs County had 20; Johnson County had 84; Laramie County had 1,449; Lincoln County had 192; Natrona County had 1,738; Niobrara County had 29; Park County had 424; Platte County had 177; Sheridan County had 336; Sublette County had 55; Sweetwater County had 320; Teton County had 222; Uinta County had 235; Washakie County had 54; and Weston County had 171.
Active cases are determined by adding the total confirmed and probable coronavirus cases diagnosed since the illness first surfaced in Wyoming on March 12, subtracting the number of recoveries during the same period among patients with both confirmed and probable cases and taking into account the number of deaths attributed to the illness.
The number of people who have recovered from the virus grew by another 165 on Saturday, making a total of 12,247 recoveries reported thus far in the state.
Let us know what you think!
Tagged:
Wyoming Coronavirus deaths
Wyoming Health Department