Wyoming Secretary of State visits Afton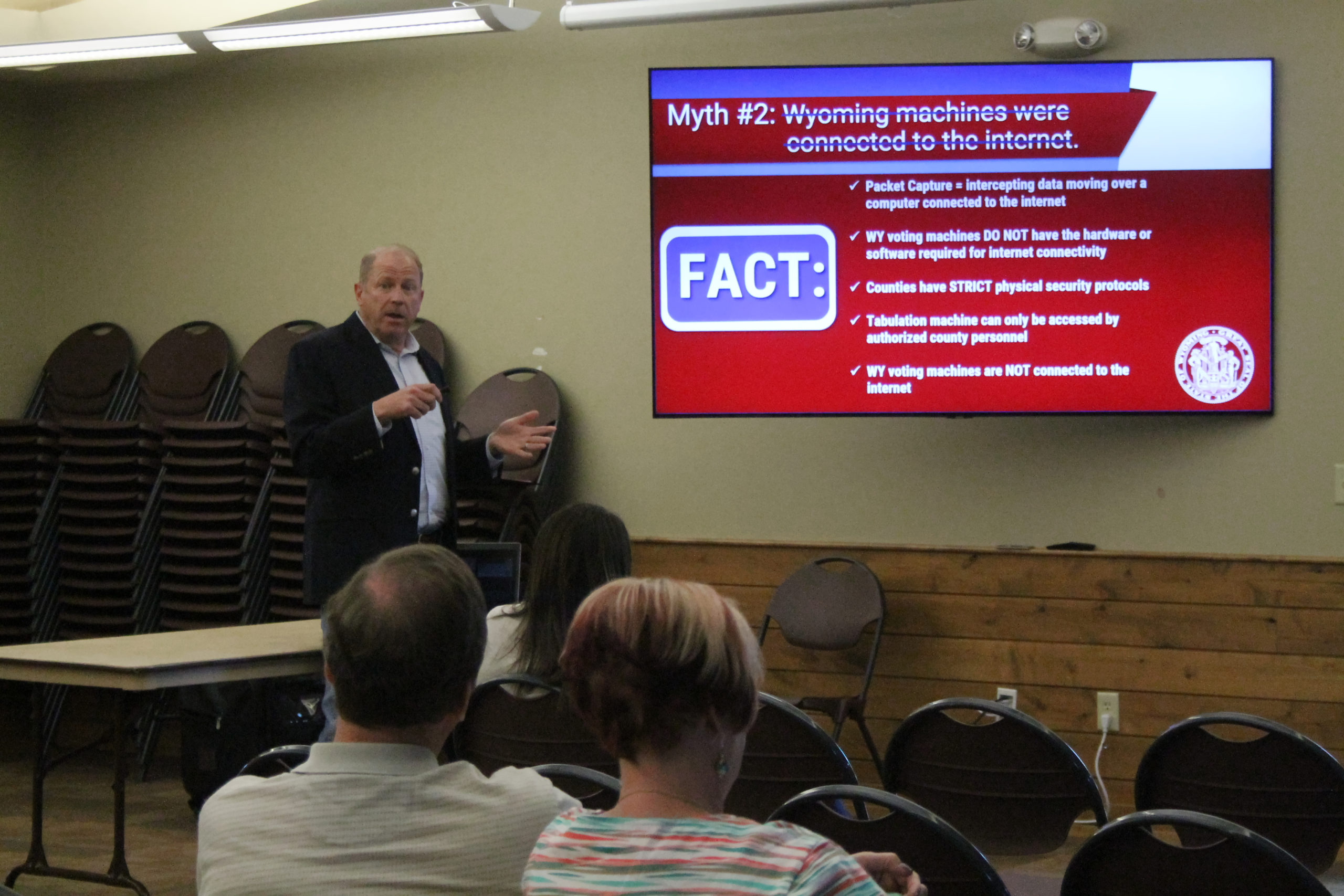 Wyoming Secretary of State Ed Buchanan came to Afton Tuesday night to present on election integrity in the state.
"This briefing was designed to answer the most common allegations and myths," Buchanan said.
"And we try to break those down and tell you why they are myths and then we take you through the elections process."
The majority of the presentation at the Afton Civic Center was dedicated to dispelling myths about election integrity in the state. Buchanan said it is important to fight back with truth.
"We're not just going to dismiss allegations out of hand. We're going to address everything, any information we can get our hands on. And if there is a problem we can fix it, and if there was not a problem we wanted to let people know that there wasn't a problem," Buchanan said.
Buchanan answered questions from residents that touched on several aspects of Wyoming's election process. He explained how his role as Chief Elections Officer fits into the work local county clerks do to keep elections fair and open. On election night, each county sends their results through encrypted email directly to his office and then communicates over the phone to verify everything.
"We're verbally verifying the results of every single race up and down the ballot," Buchanan said. "It's kind of an old fashioned way of doing things, but it's really a very very safe way."
Many concerns about elections stemmed from the voting machines used to tabulate ballots. Wyoming uses Elections Systems and Software (ES&S) brand machines in all counties. The DS200 model used in Lincoln County has neither the hardware nor the software to connect to the internet, Buchanan assured.
The presentation also covered how Secretary Buchanan has been working to improve election security. In addition to the required pre and post-election audits conducted on voting machines, Buchanan worked with statisticians from the University of Wyoming to develop a pilot program to audit results a third time.
Rules around these extra audits are being finalized and will potentially be in effect in November's election.
"We should be proactive," Buchanan said of the improvements. "But our elections have all the integrity right now."
Lincoln County Clerk April Brunski also spoke at the presentation, and discussed how elections are kept safe at the local level. She invited anyone in the public who may be interested to participate in the public test of Lincoln County's voting machines on August 1.
Misinformation, disinformation and malinformation around elections were other big topics the secretary discussed. All have varying degrees of impact on how much faith the public has in the election process. He emphasized that citizens have a responsibility to educate themselves.
"Misinformation, disinformation and malinformation stops with you," Buchanan said.
Buchanan hopes that these presentations will help residents better understand Wyoming's election process and increase their confidence in it.
"Together with truth we can restore voter confidence and strengthen trust in the government," Buchanan said.
Let us know what you think!
Tagged:
Afton Civic Center
April Brunski
Ed Buchanan
Elections Systems and Software
ES&S
Lincoln County Clerk
Wyoming Secretary of State