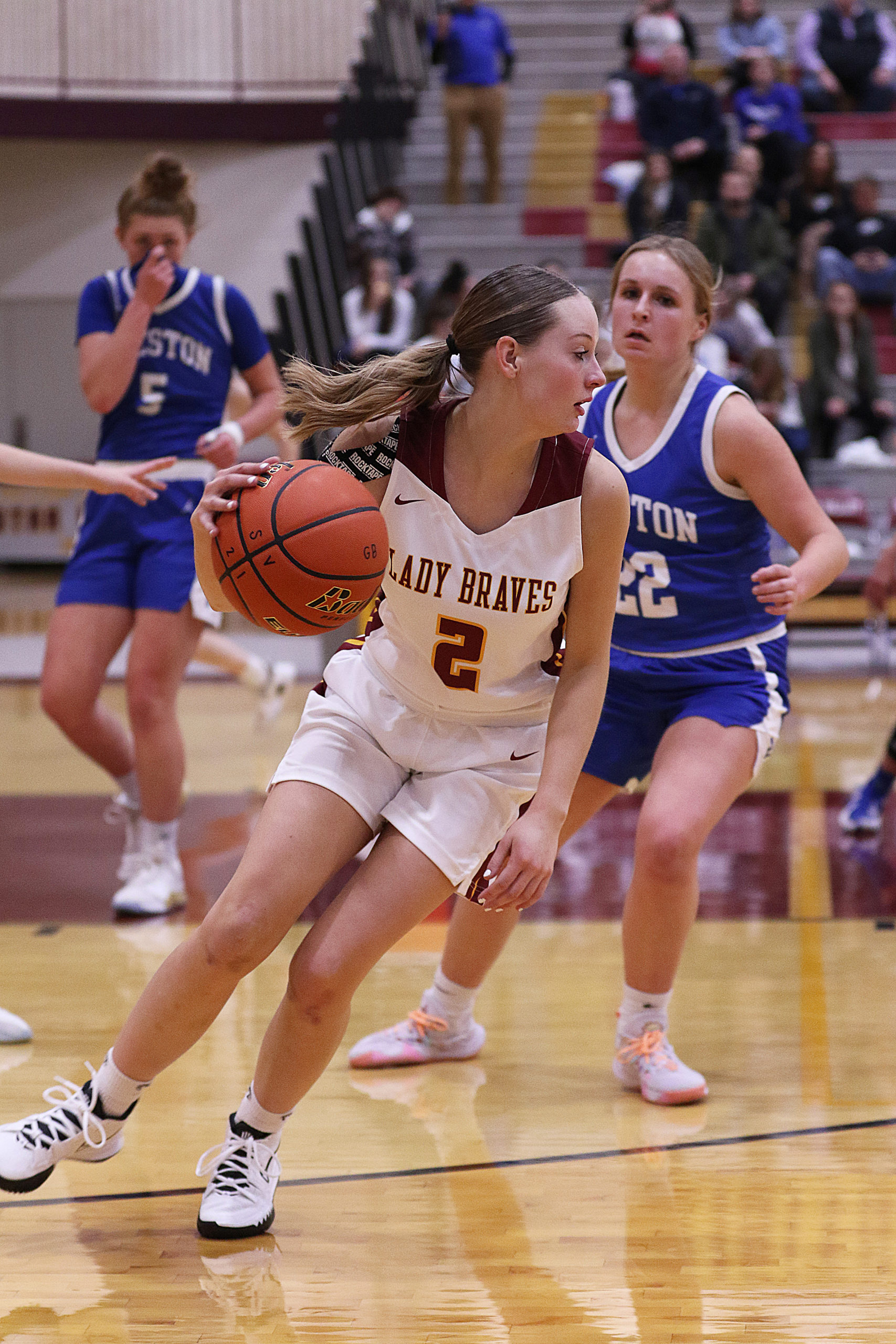 Thursday night's game was a case-study in what will likely to be the way the Lady Braves Basketball team will win games this season. Defensive urgency, persistence and guts. With just seconds remaining, Amber Milne stepped to the free throw line for the front end of a one-and-one in a tie ball game.
"I just tried to tell her to relax," said Head Coach Kade Erickson in the post-game interview. "I told her it was no big deal and we would keep working no matter what."
Milne sunk the shot giving Star Valley a 30-29 advantage over visiting Soda Springs. Her second effort caromed off the rim and the Cardinals' Nettie Garbett put up a running shot that fell short for the final score.
The win coming at the free throw line was a bit of an irony on an evening where Star Valley missed nine of them and shot just 40-percent for the game.
"We do struggle a bit there," Erickson said. "We work on it all the time but we are about at 60-percent for the season. But we made enough of them for the win tonight."

Milne finished with eight points on the evening. The top point-scorer for the home team, which moved to (3-5) over and (2-0) on their home court, was McKenna Frazier who had nine points and pulled down eight rebounds.
"She just battles for us all night long down there," Erickson said of Frazier. "She does everything we ask and more."
Sophomore point guard, Kenlee Englehardt, finished with five points, as did fellow sophomore Maddie Hale who also hauled in five rebounds.
The team was short-handed without the services of junior Cameron Erickson and senior Whitnee Hale due to injury. Hale is expected back soon while Erickson's status for the season is still questionable. The team was also without Gracee Cazier who was unable to play due to illness.
The Cardinals were led by Garbett's seven points. Zippy Somsen scored six points and four rebounds but fouled out in the second half.
The Lady Braves will be back in action next week on the road as they face the Preston Indians, a team they defeated last week. The game is scheduled for January 15. The team will open 4A Southwest District play on January 21 as they host the Jackson Lady Broncs before re-matching with the Cardinals in Soda Springs on January 22.
Let us know what you think!
Tagged:
Amber Milne
Kade Erickson
McKenna Frazier
Nettie Garbett
Soda Springs Cardinals
Star Valley Lady Braves Basketball