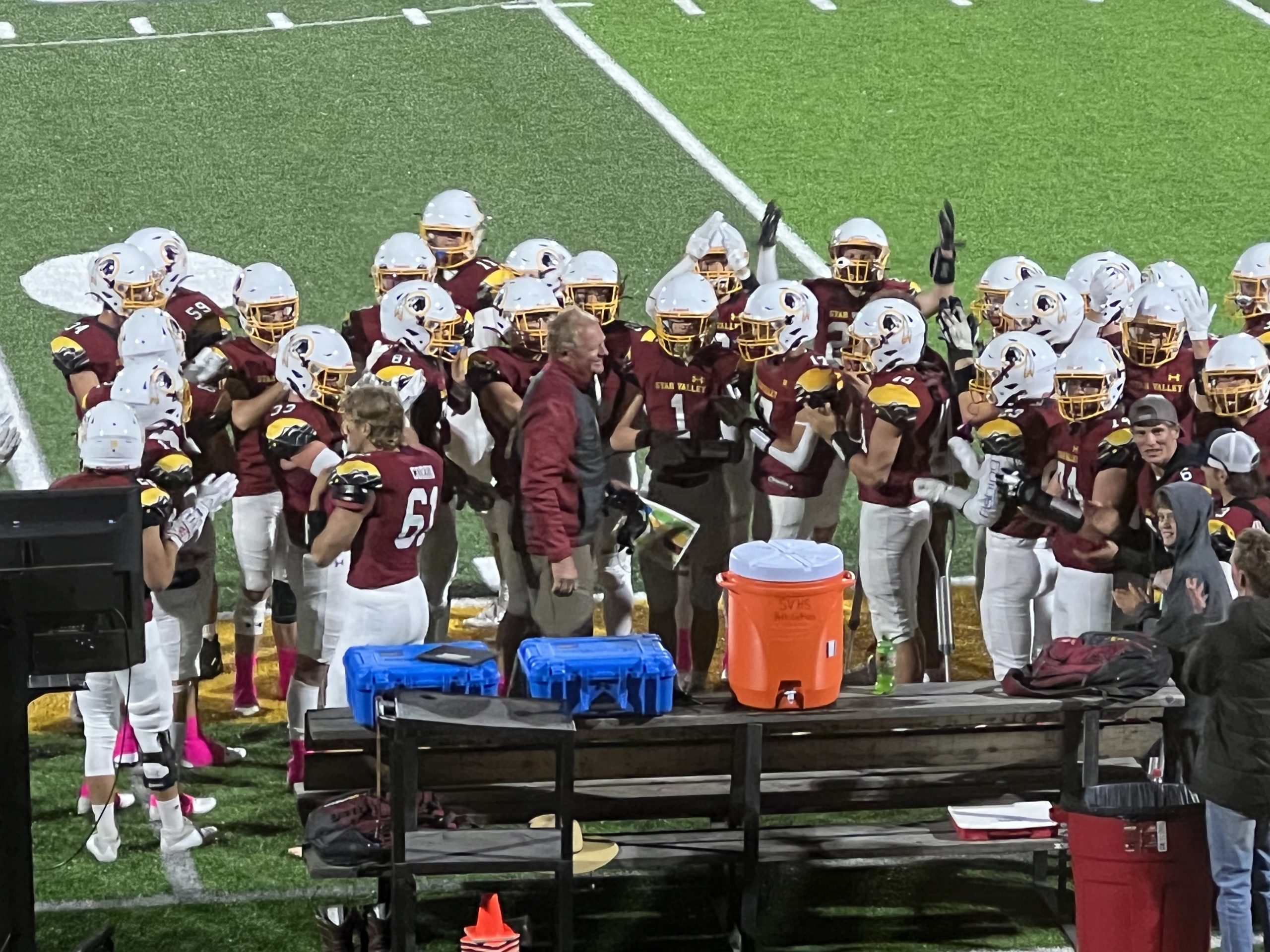 Star Valley broke out the white helmets to contrast their pink ankle wraps as they recognized Breast Cancer Awareness Month while simultaneously looking very sharp. Prior to the contest those in attendance recognized seniors from the team, the cheerleaders and the dance team.
The game itself was a one-sided affair as the Braves led 49-0 with a running clock before the Green River Wolves avoided the shutout with a late one-yard plunge against the reserves for a 49-7 final. 
The running game was on point against Green River with the offensive line opening up holes for Kaleb Spaulding and Jesse Leavitt. Spaulding finished with 124 yards on the ground and scored two touchdowns on just 13 carries. He also caught a pair of passes which put him up to 150 total yards for the evening. Leavitt had his most significant work load since Zero Week in Boise as he totaled 65 yards on eight carries. 
Taft McClure set multiple new school records in his outing where he finished 15 of 24 for 222 yards and four touchdowns and one interception. He is now the school record holder in passing yardage for a season and a career as well as touchdown passes in a season and a career. 
Coach McKay Young spread out his touches to his team as he traditionally does with seniors getting carries and other opportunities. Perhaps the highlight of this came in the second half as Brandon Cook switched jerseys in order to catch a touchdown pass from McClure before switching back to his normal number where he was a standout on both the offensive and defensive lines. Also scoring through the air was Collin Hunsaker, Dimitri Douglarakis and Luke Linford. Derek Astle scored on a rushing touchdown. McKell Merritt made all of his PAT attempts and also collected an interception on defense. 
Caleb Lake led the Wolves with 10 of 21 for 124 yards and an interception as the quarterback. Hunter Finley hauled in four catches for 68 yards. Bracken Miller led the team in rushing with 39 yards on 16 attempts. 
Now the Braves will travel to Jackson to face the Broncs who upset #5 Powell #17-14 in Park County. Star Valley will see a new facility at William T. McIntosh Stadium which will include new bleachers and press box which is now on the opposite side of the field. 
Other scores in the 3A Class included Douglas routing Rawlins 57-16, Buffalo beating Riverton 53-21 and Lander pulling away from Worland 31-13. Cody defeated Evanston 48-7. 
Other Lincoln County scores included #5 Cokeville shutting out Thermopolis on the road 49-0 and #1 Lovell taking care of Kemmerer 33-6.
Kick-off time for October 21 in Jackson is scheduled for 6 pm. The First Bank of Wyoming Countdown to Kick-off for SVI Media is scheduled for 5:30 pm. 
Let us know what you think!
Tagged:
Bracken Miller
Brandon Cook
Caleb Lake
Collin Hunsaker
Derek Astle
Dimitri Douglarakis
Hunter Finley
Jackson Broncs
Jesse Leavitt
Kaleb Spaulding
Luke Linford
McKell Merritt
Senior Night
Star Valley Football
Taft McClure