Cathedral Voices and partners ring out the Sounds of the Season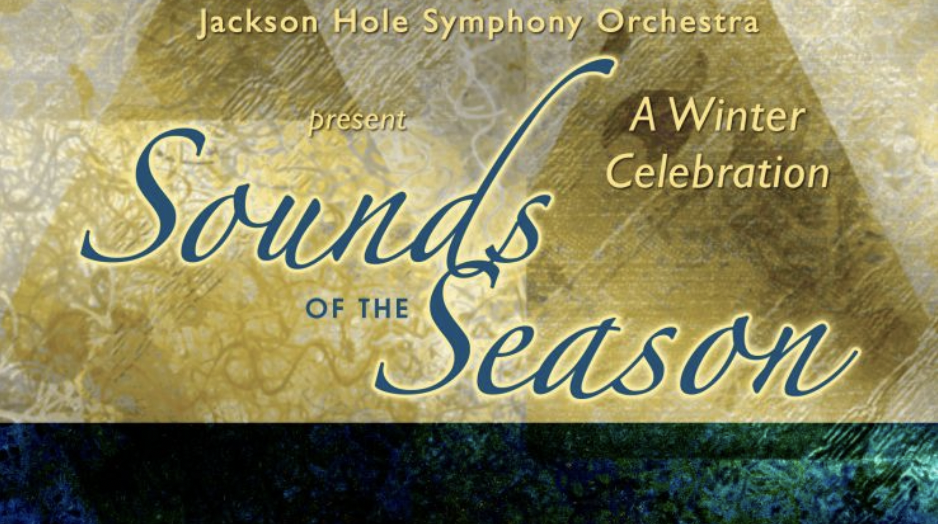 Jackson's Cathedral Voices Chamber Choir, in partnership with Jackson Hole Brass Quintet, Jackson Hole Symphony Orchestra and introducing Star Valley Voices and the Teton Music School Youth Choir are presenting Sounds of the Season – A Winter Celebration at the Center Theater in Jackson on Sunday, December 18 at 4 p.m.
With a variety of classical, contemporary and earthy, rooted Irish Christmas carols, the concert offers traditional Christmas flavor with a solid selection of vocal and instrumental gems.
"We have been doing this for over 10 years now as an annual tradition," shared Laura Huckin, who serves as the artistic and musical director of Cathedral Voices, in an interview with SVI News last week. "We partner with the Jackson Hole Symphony Orchestra and the Brass Quintet to present a wonderful variety of sounds. It's not just choral music. It's not just classical strings. It's all of the above and everything in between. It's a fun way to help people celebrate this festive time of year and to help people who haven't quite gotten into the mood yet. This concert is really a fun way to ignite that joy and the beauty of this time of year."
In collaboration with the Teton Music School, Star Valley Voice, which is a small group of young vocalists who range in age from 2nd to 6th grade, will open the concert singing contemporary Christmas favorites.
"We started [the children's chorus] in Jackson, and discovered that there are also kids on the north end of Star Valley who have less access to activities, but with a great desire to do things, and that's when we expanded and started an Alpine branch of the choir and give them a performance opportunity on an big, exciting, fun, fancy stage with an enthusiastic and supportive audience and it's just such a great opportunity to get those kids and give them exciting performance experiences at a young age," said Huckin.
Cathedral Voices consists of 26 vocalists who rehearse weekly on Tuesdays at the Presbyterian Church in Jackson. Most of the members are Jackson locals, but a handful commute from other communities, including Pinedale, Teton Valley, Idaho and Star Valley.
"The vast majority [of our vocalists] now are women," shared Huckin. "We have focused on music for treble voices this fall. I have a small group of mixed voices that are singing as well, but the bulk of the music we are doing is arranged for women's voices. That's been a fun departure."
Choral pieces featured in this concert include a series of Irish Christmas carols, classics by Rachmaninoff, MacMillan and Whitaker with an arrangement of the sacred "Gloria" text. There is a rendition of Silent Night with chimes, "Christmastime" from "A Charlie Brown Christmas," and a Hanukkah song.
"White Winter Hymnal," complete with body percussion, that has been made popular by the a cappella group, Pentatonix, is a favorite with the children. A few surprises are in the mix as well.
"Our arrangement of the Gloria text is so lovely," commented Huckin. "It's such a different experience to work with all women's voices, with the close harmonies all in the same register. It just creates such a different sound. I have really enjoyed having that opportunity."
January begins a new semester for Cathedral Voices, which also means that new voices are invited to join the choir. Vocalists interested in being part of this tradition- al group are invited to interview with Huckin, where she focuses on character and commitment as well as learning style.
"When people hear the word audition, they get tongue tied," offered Huckin. "This is really an interview of the person and their level of commitment and willingness – that they understand what it means be part of a group and to contribute, to do your best and to be supportive of the other singers around you. That is just as important as someone's talent or skill as a musician. That's very important in a group singing experience. We also test vocal range. We do some sight singing with actual notes on a page, and some ear training to get a sense of their aural sensitivity. Everyone learns differently, and I think that's one of the greatest challenges and opportunities in a choir or any ensemble – musi- cal, theatrical or otherwise. We all learn differently."
"It's just important to know that everyone who is in the group is committed to it and has a level of literacy or ear training and the right style in terms of how you approach music as a choral singer. The quality of tone is something we can work on if everyone has a base level. We can work on the tone and the timber together. One has be flexible and open and not afraid to try."
Huckin recommends that certain styles of performance need to remain at home when you participate in her choirs. "Someone can be the soloist and really shine that way, but then they also know when it's time to be the soloist and when it's time to be part of the living, breathing organism that is the choir."
Members of Cathedral Voices are also given volunteer opportunities to serve on the board, giving their time and support to making decisions about organizing, planning and fundraising for the organization.
Huckin has lived in Alpine for 17 years and brings strong musical exposure and excellence to the community. Having studied classical piano throughout her youth, her mastery level of musicianship is rare in these parts and she has a great desire to share it directing, conducting and playing in her various roles with Star Valley Voices, Cathedral Voices and Swan Valley School District.
"Choir was a wonderful social outlet for me as a child," said Huckin. "Studying classical piano is pretty lonely. It's very solitary. I had some great choral conductors when I was young who ingrained in me a lot of the foundation that I pull from. It would be so wonderful to see the amazing talent in Star Valley being shared outside the valley and connecting with other communities of singers such as Cathedral Voices. There is an opportunity for us all to come together and share that with our community. I would love to know the musical community of Star Valley better."
Sounds of the Season – A Winter Celebration will be streamed live online at: https://www.jhcenterforthearts.org/calendar/events/sounds-season-wintercelebration. Admission to the concert at the theater is free of charge.
Musicians interested in being part of Cathedral Voices can visit cathedralvoices.org and choose the Contact Us menu for inter- view details.
Let us know what you think!
Tagged:
Cathedral Voices Chamber Choir
Jackson Hole Brass Quintet
Jackson Hole Symphony Orchestra
Laura Huckin
Star Valley Voices
Teton Music School Youth Choir