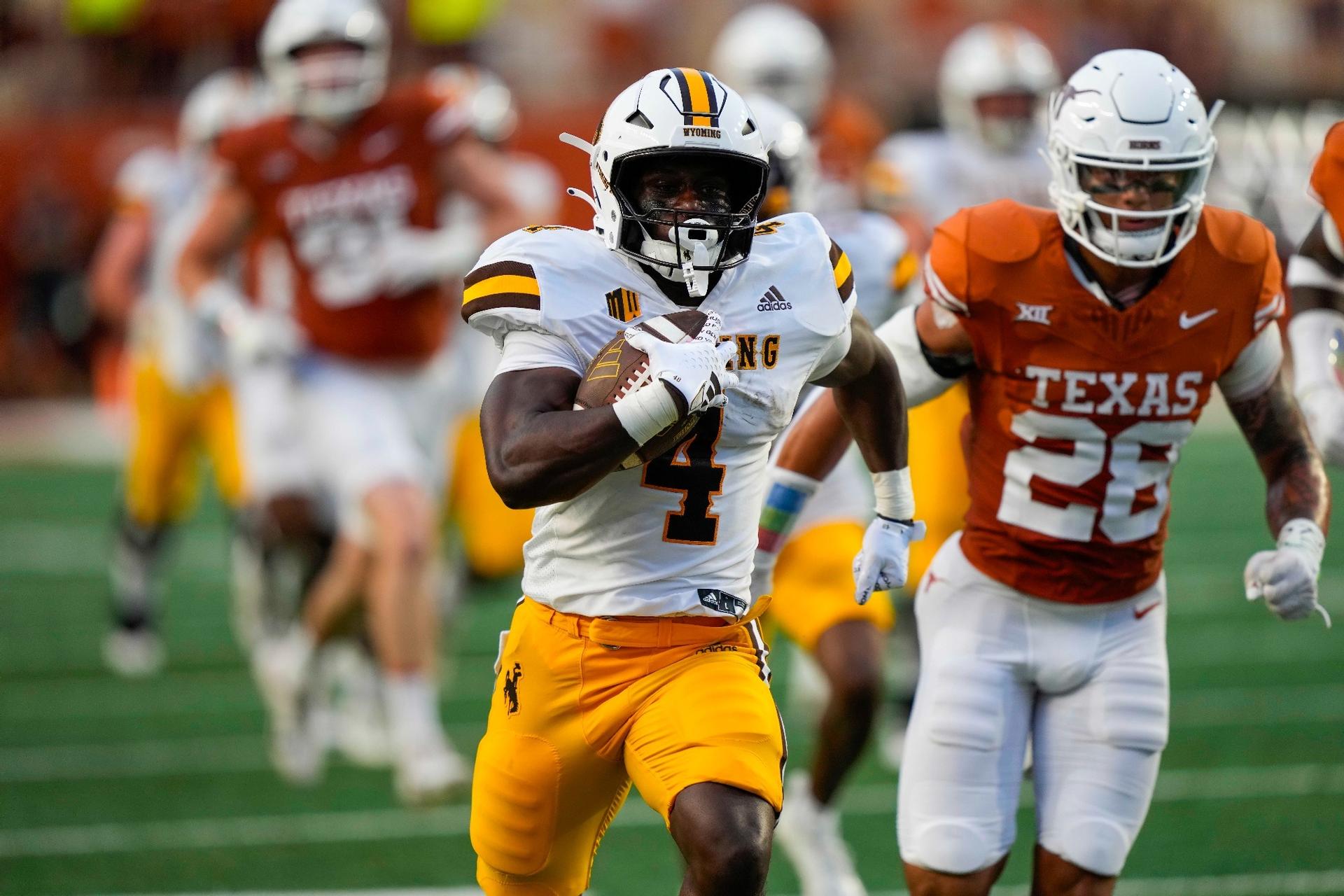 • Harrison Waylee paces Wyoming, rushing for 110 yards
The Wyoming Cowboys gave everything the fourth-ranked Texas Longhorns could handle but fell just short by a score of 31-10 on Saturday evening in Darrell K Royal Stadium in Austin, Texas. The Pokes and Longhorns were tied going into the fourth as Wyoming held Texas to only 316 yards of total offense, nearly 150 less than their win at Alabama last week. 
"Hats off to Texas," head coach Craig Bohl said. "Our plan was to take them into the fourth quarter and hopefully come up with a couple plays. I think we certainly did that, but on the flip side, they came up with some plays. I thought our guys came into an imposing environment, and the moment was not too big. I thought our coaches came up with a good game plan to make them do some things they didn't want to do." 
The Pokes were paced by Harrison Waylee with 110 yards for his first 100-yard rushing game for the Cowboys. It is the ninth of his career after recording eight at Northern Illinois. He recorded a 62-yard touchdown in the contest. Quarterback Evan Svoboda made his first career start going 17-of-28 passing for 136 yards. Wide receiver Wyatt Wieland recorded a career-high eight catches for 62 yards. 
The UW defense was paced by linebacker Easton Gibbs with 10 tackles. Safety Wyett Ekeler added nine tackles. Defensive end Sabastian Harsh added a career-high seven tackles with his first career sack. He had two tackles for loss in the contest. 
The Pokes held the Longhorns to only 316 yards of total offense, and they passed for only 131 yards. The Pokes threw for 136 yards and rushed for 155 in the contest. 
The Cowboys got off to a banner start with Waylee taking it to the house from 62 yards on the opening drive. It was just his second carry with the Brown and Gold. The Longhorns responded with a 37-yard field goal from Bert Auburn to make it 7-3 Pokes with 9:46 left in the first quarter. 
Texas took a 10-7 lead on Wyoming in the opening minutes of the second quarter on a one-yard pass from quarterback Quinn Ewers to Byron Murphy. 
The Cowboys would get a stop on the first drive of the second half for the Longhorns thanks to a sack from Sabastian Harsh. The Pokes used a 17-play, 77-yard drive ending in a John Hoyland 37-yard field goal to tie the contest at 10-10 in the closing minutes of the third quarter. 
Texas responded with a scoring drive ending in a 44-yard touchdown pass from Ewers to wide receiver Xavier Worthy to take a 17-10 lead in the opening minute of the fourth quarter. 
The Longhorns were led by Ewers throwing for 131 yards with two touchdowns. Jonathon Brooks rushed for 164 yards in the contest. 
Wyoming returns home to host Appalachian State on Saturday at 5:30 p.m. inside War Memorial Stadium.
Let us know what you think!