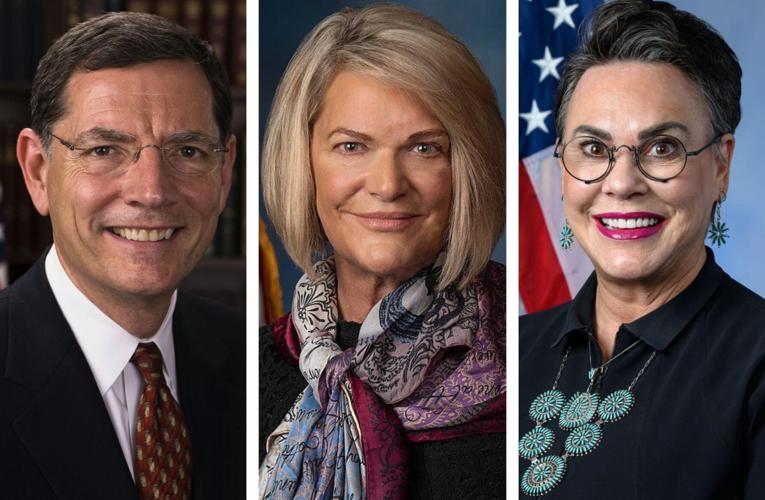 • Trio want answers on Biden's handling of classified documents
By Aedan Hannon
Casper Star-Tribune
Via- Wyoming News Exchange
CASPER — For the second time, Wyoming's congressional delegation is calling an indictment of former President Donald Trump a political ploy aimed at hurting the Republican presidential candidate. 
They also responded to the latest indictment, which is based on allegations Trump mishandled public documents, by questioning President Joe Biden's own handling of classified documents. 
Trump revealed Thursday afternoon on his Truth Social platform that federal prosecutors had indicted him for allegedly mishandling more than 100 classified documents after he left the White House. 
In the 49-page indictment unsealed Friday, a grand jury charged Trump with 37 separate counts, the majority of them linked to the Espionage Act including the willful retention of national defense information. He was also accused of obstructing attempts by the federal government to collect the documents. 
Trump called the indictment the "Boxes Hoax" on Truth Social, saying he was innocent and was being attacked by the Biden administration and Democrats to weaken his campaign for president. 
As she did when Trump was indicted by a Manhattan grand jury in March for hush money payments to porn star Stormy Daniels, Rep. Harriet Hageman called the federal charges "something that Third World countries do" while seconding Trump's assertions that the indictment is politically motivated. 
Hageman released a statement backing the former president within a half an hour of Trump breaking the news about the indictment on Truth Social. 
"Everyone knows that if Trump were not running for president again, none of this would be happening, which proves this is a political prosecution," Hageman said in a statement. "I hope every American can see this for what it is – the abuse of federal law enforcement powers against a political opponent." 
All three of Wyoming's Republican representatives also pointed to the ongoing investigation into classified documents discovered at Biden's former Washington office and Wilmington, Delaware, home last year while expressing doubts about the indictment. 
As in the Trump case, a special counsel is investigating the Biden documents. 
Sen. Cynthia Lummis said in a Friday statement that she has serious concerns about Trump's handling of classified documents, but that the Justice Department shouldn't be "weaponized to target President Biden's political opponent." 
"This is the first time the DOJ has decided to pursue criminal charges against a former president. Classified documents were recently found at other leaders' homes, including President Biden, and the question is, will he be held to the same standard as President Trump?" she said. 
Sen. John Barrasso also referenced former Democratic presidential nominee Hillary Clinton's handling of classified documents and the lack of criminal charges for both Clinton and Biden in suggesting that Trump is being treated unequally. 
"You can't help but ask why this is happening," Barrasso said in a Friday morning statement posted to Twitter. "It feels political, and it's rotten." 
In her full-throated defense of Trump, Hageman said that the indictment would only serve to help Trump. 
"It's un-American and it's wrong, but like all the other attempts to trip up President Trump, it will only make him stronger," she said. 
The indictment and past support 
The unsealed indictment shows that Trump faces a range of charges including obstruction of justice, withholding a document or record and corruptly concealing a document or record. Alongside Trump, his aide Walt Nauta was also charged for his role in an alleged scheme to shield classified documents at Trump's Mar-aLago estate in Florida from federal investigators. 
Among the documents Trump retained after leaving office was information on U.S. nuclear programs, military vulnerabilities and the weapons capabilities of both the U.S. and foreign countries, according to the indictment. 
Federal prosecutors allege that Trump showed others without clearance secret documents on two occasions while admitting that they were classified. In one, a recording captures Trump saying he could have declassified the information as president but now couldn't as a private citizen. 
Trump is slated to appear in federal court in Miami for arraignment on Tuesday. 
He still faces separate criminal probes in Georgia and Washington for his attempts to overturn the 2020 election and role in the Jan. 6 riots at the Capitol. 
While Wyoming's representatives compared Trump's handling of classified documents to that of Biden and Clinton, fact checkers and analysts have said that there is little overlap. The difference stems from Trump's knowledge of the documents and his attempts to fight the National Archives' requests to return them. 
Wyoming's congressional delegation has had different responses to Trump's candidacy for the Republican presidential nomination ahead of next year's primaries. 
Hageman, Trump's pick to defeat Rep. Liz Cheney, remains an ardent supporter of the former president, while Barrasso and Lummis have been relatively noncommittal, saying they will support the Republican nominee. 
The delegation also backed Trump after an investigation overseen by Manhattan District Attorney Alvin Bragg led to his indictment earlier this year for hush money payments during his 2016 presidential campaign. 
They called the charges "politically motivated" and portrayed the investigation as an organized attempt to hurt Trump.

Let us know what you think!
Tagged:
President Donald Trump
President Joe Biden
Wyoming Congressional Delegation