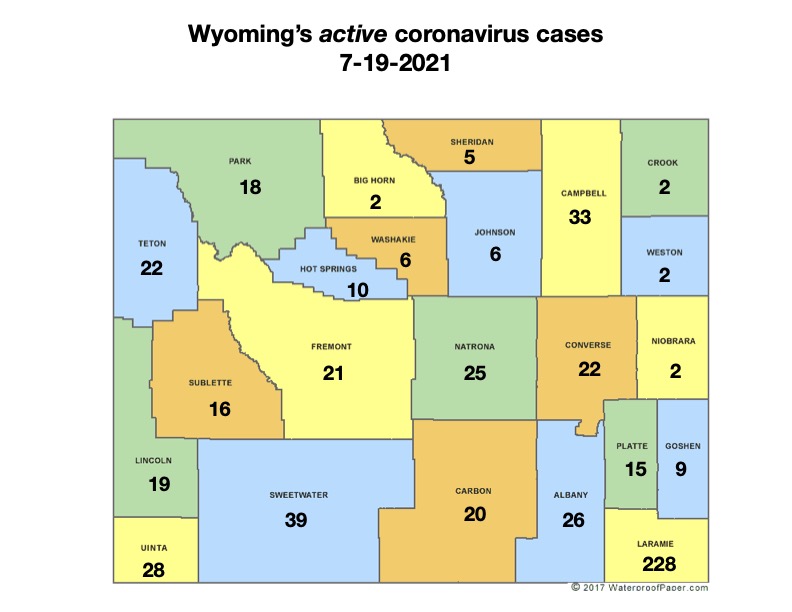 As of 3 p.m. Monday, July 19, the number of laboratory-confirmed coronavirus cases seen since the disease was first diagnosed in the state in March 2020 stood at 53,363, an increase of 439 confirmed cases since the 52,924 reported on July 12.
Laramie County reported an increase of 170 lab-confirmed coronavirus cases over the last week; Albany County had 31; Sweetwater County saw its case count increase by 29; Campbell County reported 26 new cases; Fremont County had 21 new cases; Lincoln County's case count grew by 20; Teton County added 18 new cases; Carbon and Park had 17; Platte County reported 14 new cases; Sublette recorded 13; Natrona County added 10 new cases; Converse, Goshen and Uinta recorded nine; Big Horn and Washakie counties added five new cases; Hot Springs, Johnson and Sheridan counties saw four new cases; Crook saw two new cases, and Niobrara and Weston counties reported one new case each.

The number of active coronavirus cases in the state was 576, an increase of 19 over the 557  active cases reported on July 6. 
Let us know what you think!