The following is a news release from Montana State University-Northern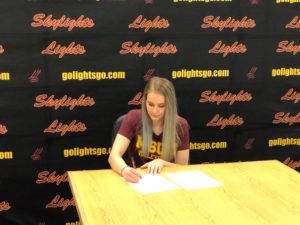 The MSU-Northern Volleyball Skylights are happy to announce the signing of Rylee Burmester and welcome her into the MSUN family. Rylee will be pursuing a major in Business while at MSUN. She is a 5-foot-10 Outside Hitter from Afton, Wyo. and recently completed two years at Central Wyoming Community College.
Rylee went to Star Valley High School. She received the following Star Valley High School accolades, 2015 and 2016 Wyoming 3A All-state, All-conference in Volleyball and 2016 All-conference in track. In 2016 Rylee was a member of winning three Wyoming 3A State Championships in volleyball, basketball, and track.
Rylee continued her volleyball and basketball experience for two seasons at Central Wyoming Community College. She received the following recognition 2018 NJCAA Region IX Honorable mention team in volleyball and voted CWC team captain. While competing for CWC in Basketball Rylee set the All- time made free throw record and finished third All-time in rebounding.
Wagner said, "Rylee is very strong athletic, 6 – rotation player with a high volleyball IQ. She will complement the MSUN returning players and assist the program in our pursuit of becoming a competitive team in the Frontier Conference. Rylee has earned great respect from her teammates, opponents and coaches because of the effort and attitude she displays on and off the court. She is a "glue type" player with a calming personality which makes her extremely reliable and a confident teammate. Rylee makes everyone better when she is out on the court and is a selfless player who always places the team first."
Rylee said, "I chose MSUN because Havre feels like home and after only meeting a few people, I can already tell the community is amazing! I can see that Coach Wagner has great things in store for our season and is eager to win. MSUN has a great academic program that is a great fit for me and will help me in my future plans. I love playing volleyball and am so excited to play this next season as a Skylight!"
Montana State University-Northern is located in Havre, Montana and competes in the Frontier Conference within the NAIA Division.
Tagged:
Central Wyoming College
Montana State University-Northern Volleyball
NJCAA Region IX
Rylee Burmester