Southwest District Music Festival at SVHS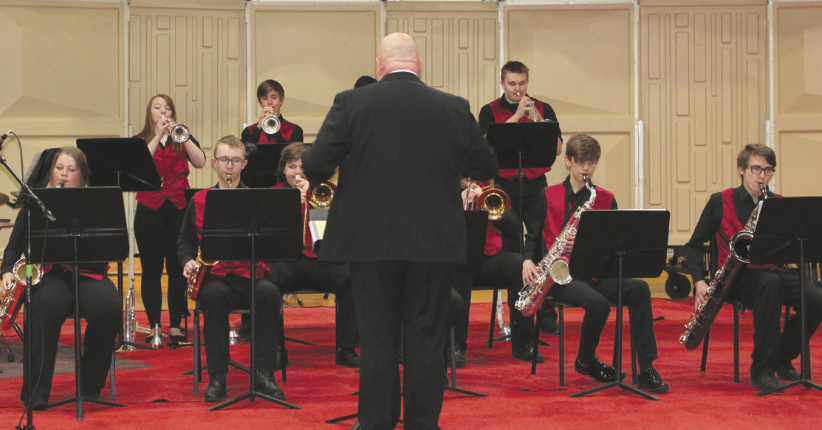 • All SVHS performing groups received Superior ratings.
Star Valley High School hosted the annual WMEA Southwest District Music Festival last week. Music students from throughout Southwest Wyoming came to Afton to play for and be instructed by high level adjudicators.
Judges came from the Salt Lake City area, Utah State University and Brigham Young University Idaho.
"It was wonderful to host the WMEA Southwest Music Festival," shared Kurt Sand, SVHS Band Director. "Most of the Star Valley groups performed on Wednesday evening for the judges. I was impressed by their comments and their judging as well as the clinic work that they did with the kids after the performances. They offered very high-quality critiques and had good things to say. They seemed to be very impressed with the performances of our Star Valley bands, choirs and orchestras. Our Star Valley Concert Band and Jazz Band received the rating of Superior One. Band students McKenzie Morrison and Shelby Kisling also represented SVHS in the solo portion of the festival. Morrison received a Superior rating on her flute solo, and Kisling received an Excellent rating for her solo."
The SVHS Chamber Orchestra and Concert Orchestra received Superior ratings for their performances at the festival. "Judges had a lot of positive things to say about the performances and also commented on the high level of difficulty of the music," shared Lisa Barber, Orchestra Director at SVHS. Hyrum Arbizu, who participated in the solo portion of the festival with a violin performance, also received a Superior rating.

Choral students from SVHS came through the festival with high ratings as well. Singcopation and Treble Tones each received a score of 34 out of 35. Concert Chorale received a 33 out of 35 and Mixed Choir received a 31 out of 35. All received a Superior rating.
Kari Allred, Choir Director at SVHS, was very pleased with the performance of her students and the response from the judges. "I'm really proud of all of the choirs and how hard they worked to sing at such an advanced level. I'm especially proud of my freshman level choir. I gave them some challenging songs and they rose to the occasion and did a fantastic job."
Let us know what you think!
Tagged:
Concert Chorale
Concert Orchestra
Kari Allred
Kurt Sand
Lisa Barber
Mixed Choir
Singcopation
Southwest District Music Festival
SVHS Band
SVHS Chamber Orchestra
Treble Tones