SVMS Robotics Club hosts 15 teams in first ever Robotics tournament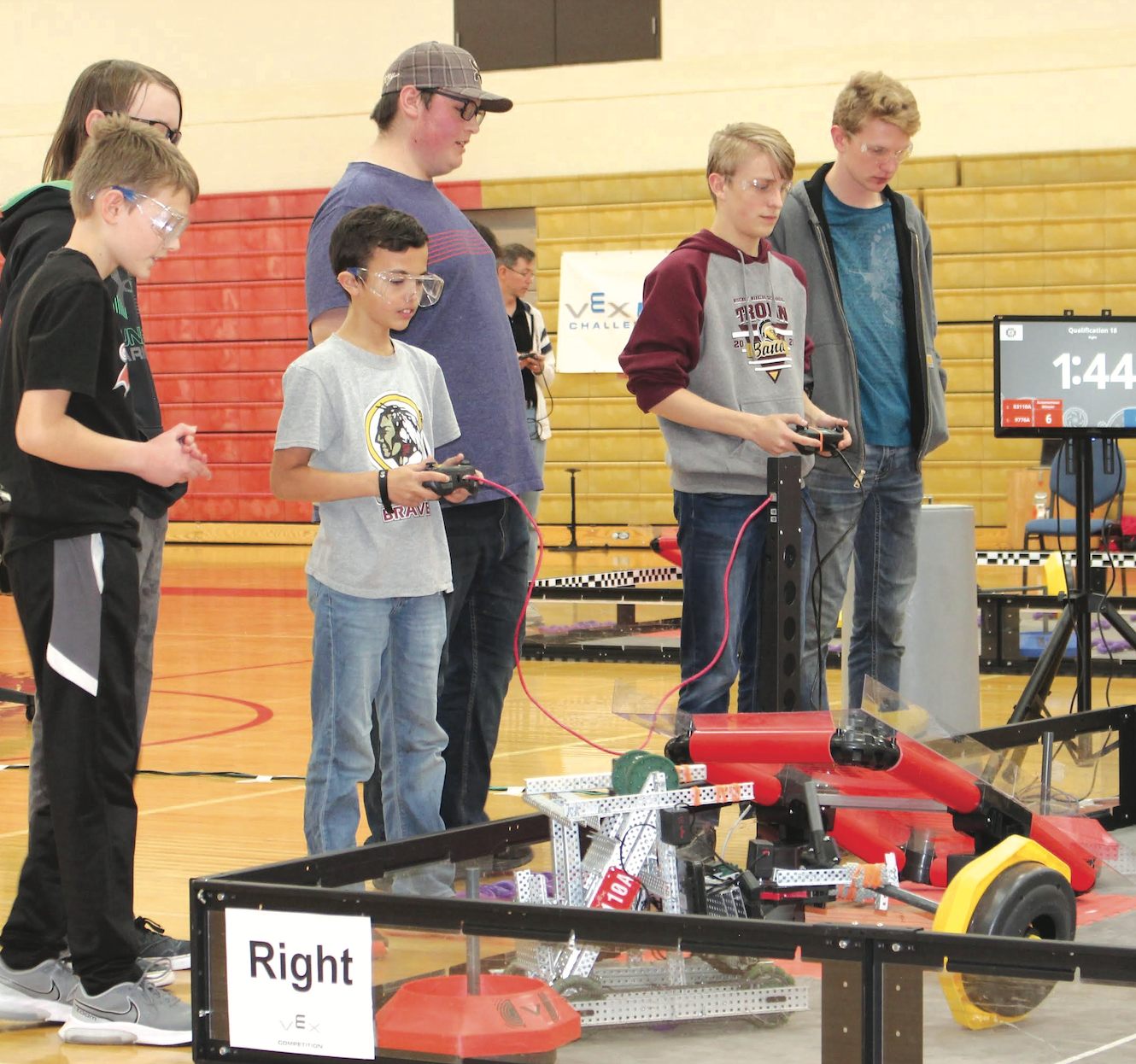 ◆ "The Boys" from SVMS placed 1st in alliance with "robotNerds" from Bear River High School.
Star Valley Middle School Robotics Club hosted their first tournament ever on Saturday, February 5 at the middle school. Three teams competed from Star Valley's club with one team emerging as first place winners in alliance with a high school team from Utah.
Fifteen guest teams gathered to battle with the SVMS engineers. Coming from Kemmerer, Rexburg and Rigby, Idaho and Millville and Garland, Utah, the teams completed qualifying rounds that established rankings in the morning. After lunch, the teams competed a single elimination tournament for the win.
SVMS team "The Boys" emerged as tournament champions in alliance with the robotNerds from Bear River High School in Garland, Utah. In addition, SVMS team "Operation Stop Sign" took home the Middle School Excellence Award.
"I was very proud of all three teams from SVMS and how independently they worked that day while Mr. [Josh] Winder and myself were busy hosting and coordinating events," commented Shirley Johns, SVMS Robotics Coach. "They knew what to do on their own and took charge, which is how it is supposed to be. Robotics is a student-centered and student-led activity. As coaches, we are there for direction and assistance when they need us."
Competition rounds required an alliance with another team, placing four robots in the ring at a time.

Rankings from preliminary rounds determined a team's opportunity to create an alliance with their chosen partnering team. Each match included a brief autonomous segment in which the robots performed predetermined skills based on programming as well as a longer competitive round in which robots battled to score points based on robot performance of specific tasks.
Each team was also required to complete a skills round in which they demonstrated their robot's competence in completing designated autonomous and driver guided tasks. Tasks included picking up and transporting selected items and placing items in a specific location.
SVMS teams included "The Boys," "Operation Stop Sign" and "Androids."
Let us know what you think!
Tagged:
robotNerds
Shirley Johns
Star Valley Middle School Robotics Club
The Boys