Wyoming State FFA officers visit Western Wyoming chapters
◆ "We are so excited to finally be in front of members and make those connections that we haven't been able to make with current restrictions."
Wyoming State FFA Association has two officers currently touring chapters in Western Wyoming. Payton Timberman, State 2nd Vice President and Kylie Carson, State 3rd Vice President, visited Lyman FFA and Jim Bridger FFA (Mountain View) last week and stopped in to work with Star Valley FFA on Monday, February 1. They are scheduled to circle around through Pinedale, Farson and Green River, visiting with those chapters along the way.
"We like to do two or three different workshops with each chapter," said Timberman. "Those workshops promote good social media usage, good communication skills and good leadership skills. We also go and visit the different Star Candidates in those chapters."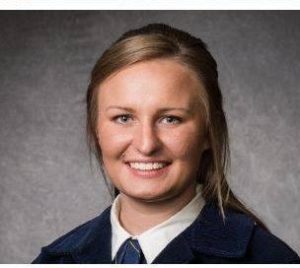 Carson explained that Star Candidates are FFA members who have applied for The Star Award, which recognizes FFA members who have developed outstanding agricultural skills and competencies through the quality completion of a Supervised Agricultural Experience (SAE) program. These candidates are judged at a state level, and the officers are part of the interview and judging process as they view candidates' various projects and visit with the members about their work.
With extra demands placed on this officer team to think outside the box throughout the Covid-19 pandemic and maintain forward movement for the organization, they met the challenge head on with a theme that perfectly fit their year in office. G.R.I.T. is this year's theme.

"Our theme is Grow. Rise. Inspire. Together, or GRIT," said Timberman. "We think that it's super important that we grow together as a community – that we rise to the occasion and the challenges that are presented to us, and inspire others around us. It's important to stick together and work well as a team as we go forward and face the challenges that we have faced this year. Or, as we like to say, 'Let's have some G.R.I.T.'"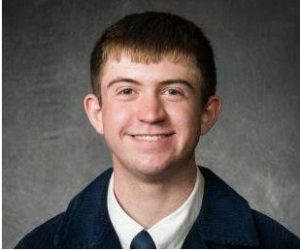 "Right from the get-go, [Covid] really hit us hard," said Carson. "Our state convention was canceled, and we had to move that to a virtual platform. We had to do a lot of things really differently. Normally, we have our [officer] interview process at state convention, but we had to change that. That looked a lot different last year and I think it will look a lot different this year as well. We got through state fair. We ran that as normal, and we had CPC, which is our Chapter Presidents Conference. We talked to presidents and vice presidents across the state and conducted a business session with that."
Some of the events that didn't take place in the last year included the annual summer leadership camp, where members gather for a week, meet the officers and spend six full days in workshops, team-building activities and service projects. Another event that was canceled was the FIRE event where newer members attend conference sessions that inspire them to choose a direction for their goals and projects.
"We are still making a lot of adjustments," said Carson. "We were so excited to be able to reach members and finally be in front of members and make those connections that we haven't been able to make with current restrictions."
Typically, the officers visit local chapters in the fall, but with the pandemic restrictions, they chose to postpone those until January. As restrictions have allowed, they are entering more schools, though they haven't been able to visit all their chapters.
"We have been masked up most of the time unless it's been an outdoor venue," said Carson. "Some schools aren't letting us in, but a lot of them have worked really well with us and have been able to get us into the program and it's been interesting figuring all that out."
Both officers agree that it's more important than ever for members to be seeing and associating with the state officers because of all the events that have been canceled this year. Most members are meeting their state officers for the first time through these visits, and the officer term will finish in April with the state convention.
For these two young ambassadors of agriculture, the FFA offers an invaluable opportunity for growth to students from all walks of life.
"I think it's important that everyone knows that FFA is not just for your stereotypical country kid," said Timberman. "There is something in FFA for everyone, whether you live in a rural area or even in an urban area. We have something for everyone to do, whether that be in prepared speaking contests in LDE (Leadership Development Event) or you show livestock in your SAE and the different CDEs (Career Development Events). We have facilities. A lot of programs actually have school farms and different ways for the school and the program to have livestock. That way, it's easily accessible for urban students. That way, they have those opportunities that rural students have that some other students might not. There are those options out there for them."
"There are so many opportunities through FFA that can take you so far," said Carson. "I'm in a different situation than most of our state officers. I took a year off FFA and I'm headed into my sophomore year of college. In that year off, I learned so much about how much I missed it and how much I benefited from it that I hadn't realized. I had gained so much confidence and so many public speaking and communication skills that I didn't even realize I was developing, all while hanging out with friends and having fun. It creates such a good learning environment that makes it so easy to grow as a person."
Wyoming State FFA is planning to hold a state convention in April, but whether that will be a physical gathering or virtual gathering of members is yet to be determined.
Let us know what you think!
Tagged:
Kylie Carson
Payton Timberman
Wyoming State FFA Association