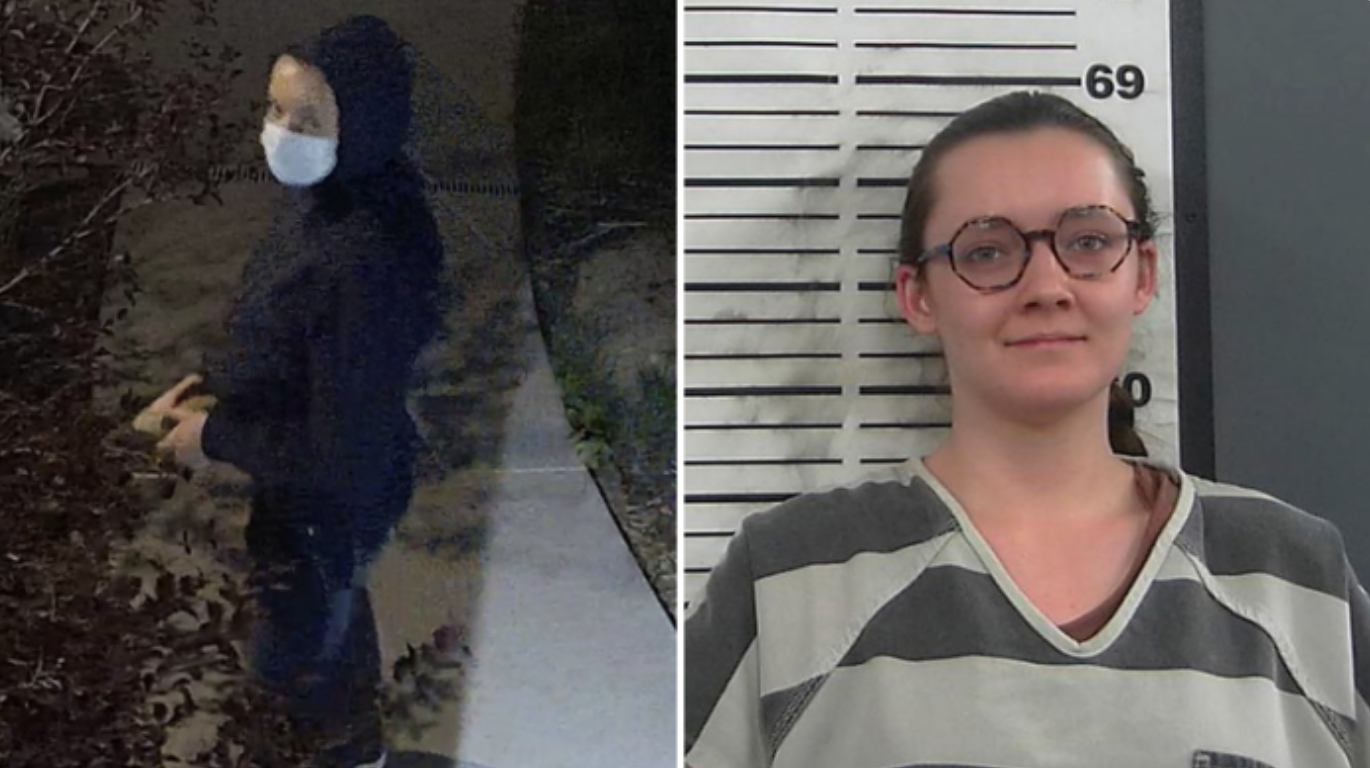 • Lorna Green, 22, faces at least five years in prison beginning immediately. Her exact sentence will be set in October.
By Madelyn Beck, WyoFile.com
CHEYENNE—Lorna Green walked to the stand before U.S. District Court Judge Alan B. Johnson Thursday with a piece of paper that had been folded several times.
She didn't waiver or pause when the judge asked her to state her new plea.
"Guilty."
Green admitted to setting fire in May 2022 to a Casper clinic that intended to offer abortions and other health services.
Following her plea, Green read the printed text from the page she held, explaining that she intentionally set the fire, "deeply regret[s]" her actions and takes full responsibility. 
Of about 20 observers in the courtroom, a close group of seven sat in the front right benches. They were there for Green. 
Green is 22 years old and had been working for DoorDash and attending Casper College while she awaited this day, she told the judge. She's studying mechanical engineering.
The judge gave her an hour to turn herself into the U.S. Marshals Service and begin her sentence of at least five years in prison — the mandatory minimum. The immediate incarceration was part of a plea deal with federal prosecutors, as was the prosecutors' agreement not to push for an enhanced, longer sentence.  
Green's sentencing hearing is set for October. Her charge carries up to 20 years in prison, up to $250,000 in fines and three years of supervised release for committing arson in a building involved in interstate commerce.
"She's a good person," her attorney Ryan Semerad told WyoFile. "She did something very wrong and she realizes that."
The fire
Early on May 25, 2022, Green set fire to Wellspring Health Access after hearing media reports about its plans to offer abortions. The blaze delayed the clinic's opening for 11 months and caused hundreds of thousands of dollars in damages. 
Green was caught on camera, though the images were fuzzy and she wore a surgical mask most of the time. It took nearly a year for tips to come in identifying her, which happened after an increase in reward money accompanied by new law enforcement images showing her distinctive hairline. 
Green spoke with authorities around the time of her arrest this spring. She told them she knew the clinic was going to offer abortion services, according to a sworn statement from a Bureau of Alcohol, Tobacco, Firearms and Explosives agent.
"Green stated she did not like abortion and was having nightmares which she attributed to her anxiety about the abortion clinic, so she decided to burn the building," the statement reads.
A plea agreement was in Green's best interest, according to Semerad.
"The evidence was pretty strong," he said. 
Still, he said there is more to her story, which he plans to tell at the sentencing hearing this fall. 
Among those in the federal courtroom was Julie Burkhart, founder of Wellspring Health Access — the clinic Green lit fire to. 
"Today was personally an emotional day," she said after the hearing. "It evoked a lot of traumatic memories from May 25."
Burkhart was also sad, she said. Green is the same age as her daughter. 
"I can't help but think about my daughter every time I think about Lorna Green," Burkhart said. 
Still, actions have consequences, Burkhart said, and Green had to face hers. Burkhart didn't know how many people were affected by the delayed opening: from those needing health screenings to those wanting contraception or an abortion. 
Burkhart has increased security since the clinic opened in April, she said. It's the newest of two clinics now offering abortion in Wyoming. 
"Doing our best to be diligent without feeling like we all have to live in a box," she said. 
She knows about the importance of security more than most: Her former colleague Dr. George Tiller, who also worked at a clinic offering abortions, was shot and killed in Wichita, Kansas, in 2009. 
That murder was caused by radicalisation within the anti-abortion community, Burkhart said. That kind of fervor, which she sees in Casper too, can cause some to act, she said.
"Words have consequences," she said. 
Back in the courtroom, Judge Johnson asked Green whether she knew what she was doing was wrong when she lit the clinic on fire.
"I knew right after," she said.
"You intended to destroy the building?" he asked.
"Yes."
With the hearing complete, Green walked past the judge's bench through doors at the back of the courtroom with her long, straight hair hanging beyond her back, a white and blue dress and flip flops with shiny plastic beads.
WyoFile is an independent nonprofit news organization focused on Wyoming people,  places and policy.
Let us know what you think!
Tagged:
Casper College
Judge Alan B. Johnson
Lorna Green
U.S. District Court
U.S. Marshals Service
Wellspring Health Access
Wyoming abortion clinics